Wedge Sreen Filters, also called round slot tube. It is made of stainless steel wire, which is the most popular type because of outstanding chemical stability and corrosion resistance. The stainless steel cylindrical wedge wire screensis composed of working profile and support profile. It is produced on an automotive machine. The support profiles is placed on the suit position of the machine, during the surface profiles are spirally wounding, the support profiles are welded onto the surface profiles.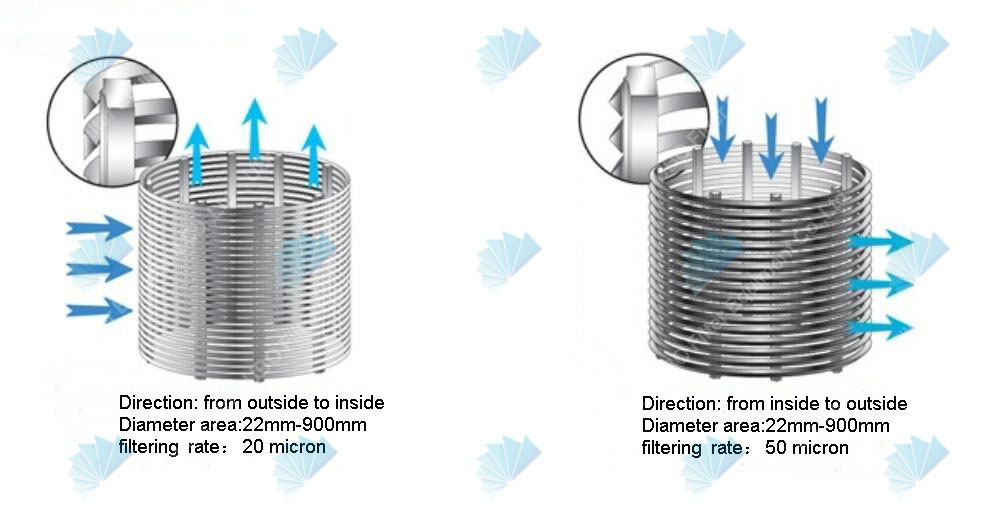 Applications of Wedge Sreen Filters in Water Treatment
v wire wedge wire screen pipe are mainly used for the water-treatment, water well drilling, oil well drilling, mineral processing, coal-cleaning plant, sewage treatment and other industries, water, oil or gas filter and other filtration equipment.


Characteristics of Wedge Sreen Filters in Water Treatment
The welded stainless steel wire wrapped pipe screen is made up of rods and profile wire. The rod can be round wire, triangular wire or trapezoid wire. The profile wire is triangular wire (V-shaped wire). This type of pipe screen has a structure and high open area, as well as accurate slot dimension. At the same time, stainless steel pipe screen has heat-resisting, anti-corrosive, good machine capability, last long, safety and reliability and so on characteristics. It can be used in many kinds of medium filtering.