Sand Control Screens are very effective in wells of this type since they can be manufactured with very small slot size and yet still maintain the necessary open area to minimize friction head loss. Most continuous wire wrap screen is manufactured from stainless steel rather than carbon steel in order to avoid problems which often leads to accelerated corrosion.

Features of Sand Control Screen
1) Slot with precise control The width of slot can range from 0.30~1.00mm with its width accuracy as ±0.05mm. So, it can match the formation sand in different particle size, and perfectly meet the requirement of sand control under the well.
2) With strong anti-corrosion ability Stainless steel filtration jacket with punched slot has strong resistance to acid, alkali, and salt. It is highly adaptive to H2S, CO2, and enables the space between slots not expanded because of corrosion in long-term use.
3) Perfect integral strength and strong anti-deformation ability, The internal part of filtration jacket is supported by base pipe and the outer protective shroud can be fixed outside the filtration jacket if necessary. The integral strength of base pipe with drilled holes is merely 2~3% less than standard casing or tubing. So it can withstand compression deformation from stratum with sufficient integral strength. Even if local deformation occurs, the gap of compressed part will not be enlarged. It has been proved to be highly reliable on sand control.
Applications of Sand Control Screen
Application in deep well pump to dive the water pump, in the water-treating equipment, the environmental protection, the sea water transforms into the industrial water and life use water desalination treatment, running water treatment, water softening treatment; the petroleum industry, the petroleum product terminal filters; and the chemical acid, the alkali liquid filters, the ethyl alcohol and the organic solution recycling filters.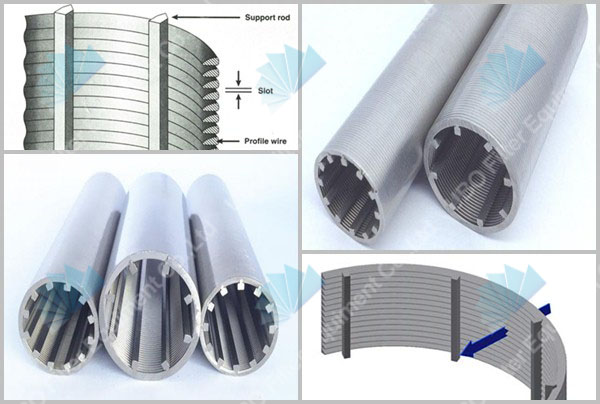 Ubo is specialized in producing and distributing wedge wire screen,lauter tun screens,sieve bend screen,sieve plate screen,water strainer&nozzle,screen nozzles,centrifuge screens and baskets,header-lateral.