Oil and Gas Well Screens are made up of rods and wire. The rod can be round wire, triangular wire or trapezoid wire. The wire is triangular wire (V-shaped wire). Water well screens have a structure and high open area, as well as accurate slot dimension. At the same time, water well screens have heat-resisting, anti-corrosive, good machine capability, last long, safety and reliability and so on characteristics. It can be used in many kinds of medium filtering.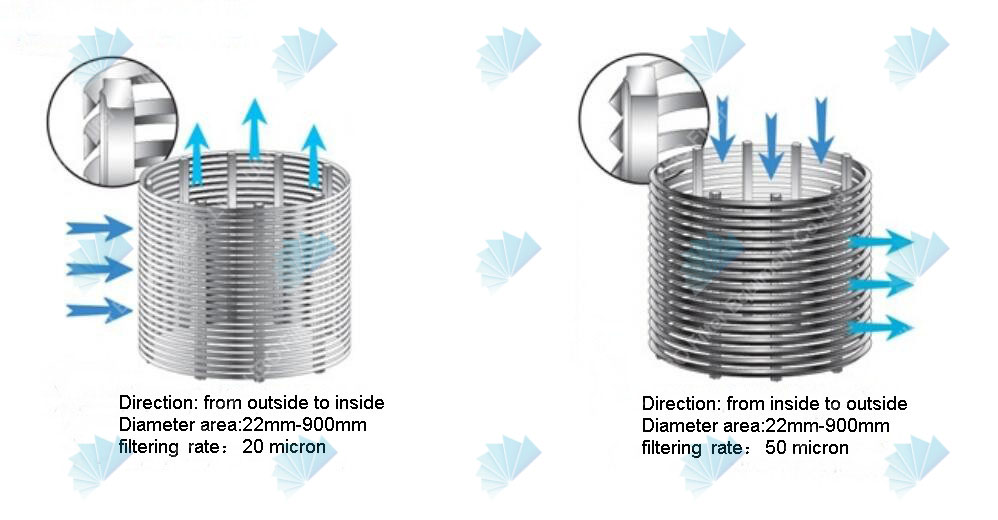 Applications of Oil and Gas Well Screen
V wire wedge wire screen pipes are mainly used for the water-treatment , water well drilling ,oil well drilling ,mineral processing, coal-cleaning plant ,sewage treatment and other industries,water, oil or gas filter and other filtration equipment.
Features of Oil and Gas Well Screen
1) Filter pipe with high porosity is more efficient for the construction of water, oil and gas wells.
2) Filter pipe with low operating costs and high porosity is more conducive to groundwater infiltration, and plenty of deep water make the water level drop reduced, thereby reducing energy consumption.
3) Reducing pump wear, under the same conditions, the high porosity makes groundwater infiltration rate in the filter pipe penetration rate more slowly compared to other filtration apparatus, thus avoiding the sand enter the filter pipe in the larger pressure,reducing pump wear.
4) To extend the life of the well, relatively speaking, a high groundwater infiltration drainage pipe filter pores easier, low flow rate, extending the life of the well.