what is a pleated filter cartridge
---
What is a pleated filter cartridge?
Pleated cartridge filters are surface filters that catch sediment particles on their surface. The cartridge media is pleated so that the filter's surface area increases and holds many sediments.

The pleated media is engineered to form layers that enable absolute filtration while also allowing it to capture particles of different sizes. These filters are made with a wide surface area that can hold a large number of sediment particles.

What types of pleated filter cartridges are there?
•Polypropylene (PP) pleated filter cartridge
•Polyester (PE) pleated filter cartridge
•Polytetrafluoroethylene (PTFE) pleated filter cartridge
•Polyethersulfone (PES) pleated filter cartridge
•Nylon pleated filter cartridge
•Pleated Micro Fiberglass cartridge filter
•Pleated Cellulose Filter Cartridge
•Backwashable pleated cartridge filter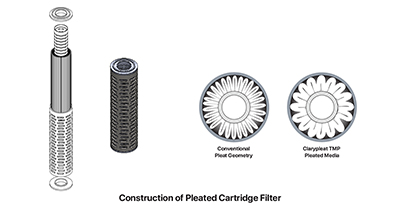 YUBO custom produces stainless steel 304/316 pleated filter cartridges including mesh, core, and end caps. A pleated design offers a greater surface area for lower differential pressure, higher flow rate, greater solids retention, and extended use between cleaning. Welcome to visit our website for more product information.

WhatsApp/skype: +86 136 5328 5589
E-mail: sales@ubooem.com