Pleated Candle Filters with the pleated wire mesh or sintered fiber web as filtering materials, Metal Structure Pleated Filter Elements mainly serve in filtration of high molecular polymer, long fiber, short fiber, meltdown in thin film production, also drugs, hydraulic oil, disposal of water, hot gas, etc.
The Pleated Candle Filters are made of 5-layer sintered wire mesh laminates.This kind of filter cartridge has good capacicties such as the corrossion resistance,good air permeability,easy to back wash,high filter rating and etc.
Features of Pleated Candle Filters

1.Conventional fan-pleat filter element avoids unused volume
2.The laid-over pleat geometry of filter elements maximizes available area and ensures uniform flow distribution throush the filter element.
3.High strength construction(optional)

4.Extended filter element serviced life (same space envelope )
5.Consistent performance throughout filter element service life
Benefits of Pleated Candle Filters
The filter media is cleanable at the job site. Sewn end style filters are used in applications where chemical compatibility and temperature concerns dictate the style of filter. For more aggressive environments, this style can be constructed with stainless steel parts and high temperature media.
Applications of Pleated Candle Filters
Widely used in polyester filtration,water treatment equipments,oil filteration,pharmacy factory,chemical filtration and etc.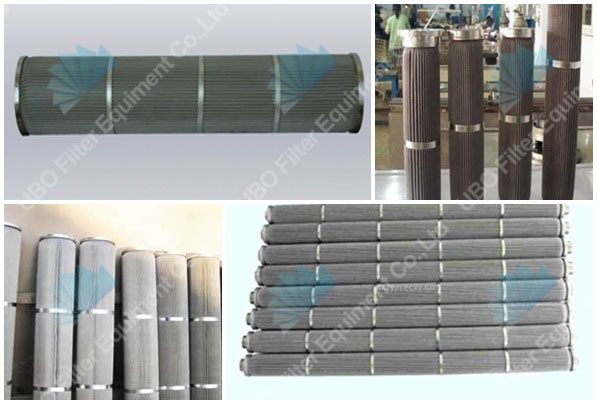 1.Filter Materials:SUS 316L,304
2.Filtering Rating:1-200 micron
3.Filter Media:Sintered Wire Mesh or Sintered Metal Fiber Felt
4.Shapes:Cartridge Filter, Disc Filters,Pleated Filter Elements, Filter Panel and etc.
5.Working Temperature:-200 —600°C