wedge wire candle screen filter is normally closed on one side and has a flange on the other. They can be made for flow-in-to-out (FITO) or flow-out-to-in (FOTI) filtration.A strainer is often used in tubes to block unwanted particles or dirt that would otherwise damage downstream equipment. Cleaning is carried out by removing the strainer from the tube.
Application for wedge wire candle screen filter
wedge wire candle screen filter predominantly used in water treatment processes namely in 'Ion Exchange' and other numerous media filter systems, Completion Products offers a Resin Trap Screen. This screen system is primarily used as a safety device and is positioned immediately after the outlet nozzle of the vessel/reactor.
Characteristics of wedge wire candle screen filter
It have the characteristics of corrosion-resisting and oxidation-resisting,
The wire mesh can be supplied in rolls or cut into panels(width from 0.5meter to 3 meter).
Uses: It can be mainly used in industry, agriculture(Rice filter), building, transportation, mine, field,
lawn, cultivation, profession's guard, decorate, machine protection and etc.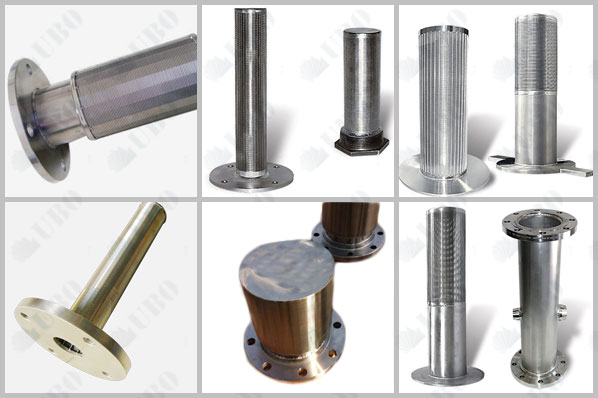 If you can envision it,We can supply it. TEL:0086-318- 5183240 E-mail:sales@ubooem.com
· Ubo will do everything possible to provide exact and full product information based on metal mesh for your information.
· In order to give customer a clear image of the product,Ubo has taken some pictures, customer can dowmload for reference but using our picture for business is forbidden.
· Due to technique and other factors,product image might be slight different to the products itself,in case everything will follow the products.
· Ubo appreciate any suggestion on our product information or picture or anything else.
1)wedge wire candle screen filter,Wedge wire screen ,Wedge wire screen Cylinder,welded Wedge wire Screen cylinders
2)wedge wire candle screen filter Material: high quality low carbon steel wire,stainless steel wire. AISI304,AISI316
3)wedge wire candle screen filter Finished Type:
1.galvanized wedge wire screen,
2.hot-dip galvanized wedge wire screen(galvanized before wedge or galvanized after wedge
3.coated welded wire mesh(Colors available is green,blue,white or other colors at customers request.)
Type

Slots mm

ΦA

Flange DN

L1mm

AM1

0.05, 0.1, 0.2 0.3, 0.5, 1.0

45,57,76,89,108,

133, 159, 219

40,50,65,80,

100,125,150,

200

442,496,547,

600,654,705,

758,812,863,

916,970,1021,

1074,1128,1179,

1232, 1286