The Welded Wedge Wire Screens are made up of rods and wire. The rod can be round wire, triangular wire or trapezoid wire. The wire is triangular wire (V-shaped wire). wedge wire water well screen have a structure and high open area, as well as accurate slot dimension. At the same time, water well screens have heat-resisting, anti-corrosive, good machine capability, last long, safety and reliability and so on characteristics. It can be used in many kinds of medium filtering.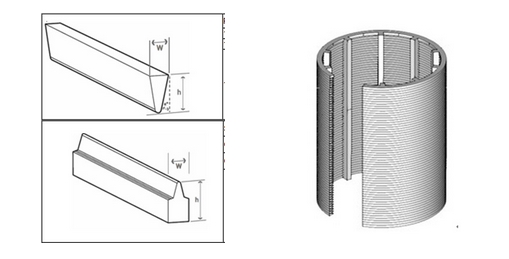 Continuous slot: support rods and longitudinal wire makes an opening which significantly increase the available opening area, and allow better access to the water flow.

High open area: reduce the water level, thus to save energy consumption. Meanwhile, high open area can make the groundwater enter the screen much slower than other filtration apparatus, which can avoid sand from entering screen due to high pressure, hereby lowering pump wear down.

High Strength: It takes stainless steel as main raw material, then is welded at high temperature, which guarantee high strength to bear big water pressure, hereby it has long life span.
Widely used in mining, coal, petroleum, fertilizer, grain, salt, environmental protection and other industries. For sieving liquid, powder and other materials. In petroleum, chemical industry, metallurgy, mining, pharmaceutical purification and drilling liquid purification.