Wire Wrapped Screen
A new combination offering:
A double layer of high standard screen having very accurate "V" shaped wire welded to support rods.
A perforated pipe which permits the screen to be utilised in very deep wells.
A variable thickness layer of calibrated sand, either with or without epoxy resin, and contained within the annulus of two concentric screens.
The permanent (patent pending) control of the annular spacing during sand loading and resin preparation.
A very close control of slot tolerances designed to prevent sand migration.
A "V" shaped slot which ensures better flow performance.
Better screen protection due to specially designed rings that protect the filtration zone.
A variable annular width, and therefore sand volume, specific to the application and the well environment. For example deviated, horizontal or depleted wells.
The use of UBO deep well screens offers efficiency and reliability.
Materials ranging from AISI 304 stainless steel through to exotic alloys such as INCONEL are possible.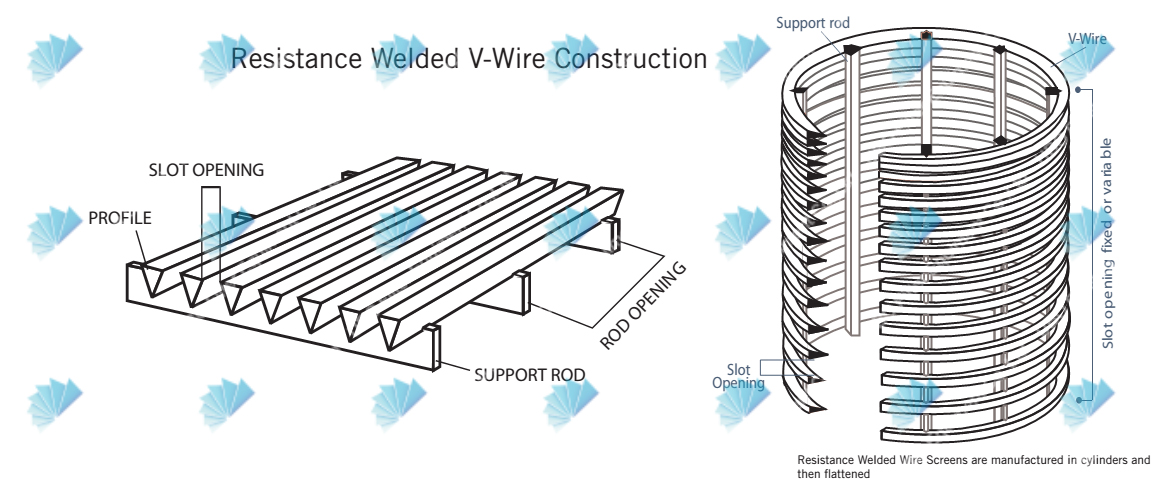 Necessary information for product design is as follows:
The bore hole diameter
The API size of the pipe based screen.
The overall length and effective length of screen.
The material of construction required.
The slot opening.
The type of end connection including size and thread form.
Whether or not a centraliser is required
Applications of Wire Wrapped Screen
Used in industries such as Sugar, Coal Mining & Quarrying, Mineral Processing, Cement, and Industrial & Urban Effluent Treatment etc.
Used as a pre-filter in urban & industrial waste treatment plants to improve the performance of the clarifier by dramatically reducing the load.
Used for fiber removal in Starch industry.