The wedge wire screen lateral can be designed for disc head vessels enabling the system to collect completely to the bottom of the vessel. wedge wire screen lateral design is also available for flat bottom vessel distributor or collector applications All systems are designed for effective liquid or solid retention in a wide range of applications including ion exchangers, clay and sand filtration applications, carbon towers and power plants with water systems.
Advantages of Wedge wire screen laterals
1. Screens with high open area are more suitable for the construction of high-quality water wells and gas wells.
2. Low cost operation.
3. Reduce the abrasion of the pump.
4. Extend the life span of wells, low-carbon, Galvanized or stainless steel construction
Application of Slot wire header lateral for water treatment
Wedge wire lateral assemblies is widely used in under draining applications for filtering and screening, additional, it is widely used in various machines for screening.
Cation exchanger.
Mixed bed exchanger.
Ion exchanger.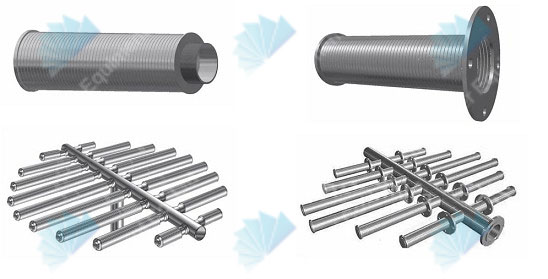 Material:stainless steel 304,304L,304HC,316,316L,321,430 or as per your request.
Wire diameter: 1.5x2mm,2x3mm
Screen length: 0.5, 0.8, 1, 1.2,meters or according to you .
Pipe length:1.5, 1.8, 2, 2.5,3 ,5meter.
Diameter:50 ,80 ,90, 110, 120 mm