Stainless steel v wire curve screen panel for filtration is called Wire mesh screen ,filter wire mesh ,are widely used in various industries, especially suitable for low maintenance applications as sieves and filters. It's a new type filter component fabricated from the Fine Mesh Slot Opening Stainless Steel Wedge Wire filtration products.

Wedge wire curved waste water treatment screen plate can be re-used repeatedly. The precise filter ratings are from 20 micrion. Besides of this flat one, SLOT-CHINA screen filter are also available in the form of tubes, panels, filter cylinders and bags and special filter elements. It is made by welding with profile wire on every connection spots.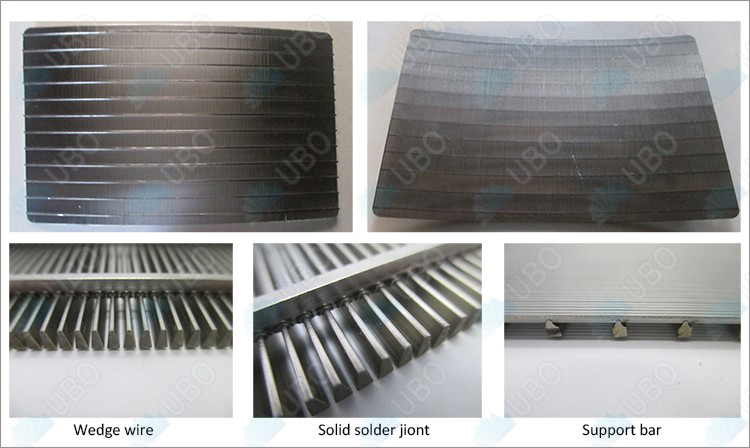 Application of Stainless steel v wire curve screen panel for filtration
Used in industries such as Sugar, Coal Mining & Quarrying, Mineral Processing, Cement, and Industrial & Urban Effluent Treatment etc.
Used as a pre-filter in urban & industrial waste treatment plants to improve the performance of the clarifier by drastically reducing the load.
Used for fiber removal in Starch industry.
Feature of Stainless steel v wire curve screen panel for filtration
flatness to within tight tolerances
no weakening of the welds, because of flattening (and no stress corrosion problems as a result)
accurate distance between support profiles
possibility of different support wires in one screen
possibility of variable spacing between support wires in one screen