SS304 all welded wedge wire wrapped screen drilling pipes are very effective in wells of this type since they can be manufactured with very small slot size and yet still maintain the necessary open area to minimize friction head loss. Most continuous wire wrap screen is manufactured from stainless steel rather than carbon steel in order to avoid problems which often leads to accelerated corrosion.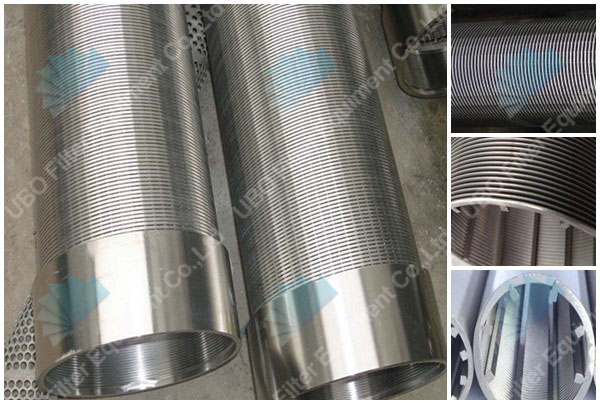 Applications of SS304 all welded wedge wire wrapped screen drilling pipe
Use for oil well, water well, deep well, geothermal well, control sand, liquid solids separation, water treatment, waste water treatment, filter element, the industrial wastewater treatment plants, dewatering equipment, power plant, chemical plant, dehydrate, steel plant, nuclear power plant, Pharmaceutical factory, coal mine, The fixed double chamber bed anion, cation exchanger, Anion exchanger, waste water treatment system, Sea Water Desalination, industrial and municipal Water, Wastewater Treatment plants, drinking water treatment, potable water treatment, purified wanter treatment, boiler water treatment, boiler water conditioning, resin water treatment, Softening water treatment equipment, wastewater treatment, sewage treatment, Composite ion exchanger.
Features of SS304 all welded wedge wire wrapped screen drilling pipe
1) Screens with high open area are more suitable for the construction of high-quality water wells, oil wells and gas wells.
2) Low cost operation Screens with high open area shall favor groundwater infiltration. Abundant water shall reduce the water levels down, thus to save energy consumption.
3) Reduce the abrasion of the pump
Under the same condition, high open area can make the speed of groundwaters entering into the screen much slower than any other filtration apparatus, which will avoid sands entering into.

Ubo is specialized in producing and distributing wedge wire screen,lauter tun screens,sieve bend screen,sieve plate screen,water strainer&nozzle,screen nozzles,centrifuge screens and baskets,header-lateral.