Profile wire slot tubes are manufactured directly on a machine. They have the unique advantage of very accurate, narrow slot openings and perfect roundness all in one. Slot tubes can be provided with the necessary end pieces for attachments and/or reinforcements.

Standard constructions of slot tubes (special constructions are possible on request)
The designation of a slot tube describes its construction as follows:
surface wire / support wire x number of support wires.
Example: 12S/Q25 x 8.
This means that the profile wire is 12S. The support wire is Q25 and there are 8 support wires, equally spaced over 360°.
Slot tubes with dimensions and/or tolerances other than those described below, are available on request.

Application of Profile Wire Slotted Tubes
Widely used in mining, coal, petroleum, fertilizer, grain, salt, environmental protection and other industries. For sieving liquid, powder and other materials. In petroleum, chemical industry, metallurgy, mining, pharmaceutical purification and drilling liquid purification.
Advantages of Profile Wire Slotted Tubes
A continuous slot opening which significantly increases the available open area, thus providing greater access to the water bearing zone.•A "V"shaped profile wire which avoids clogging and ensures an uninterrupted flow.
A uniform and efficient well development due to the continuous slot opening.
Ladder-like wire welded screens have a strong structure and high open area, as well as accurate slot dimension.
5.Ladder-like wire welded screens have the features of easy backwashing, last long, safety and reliability as well as low comprehensive cost.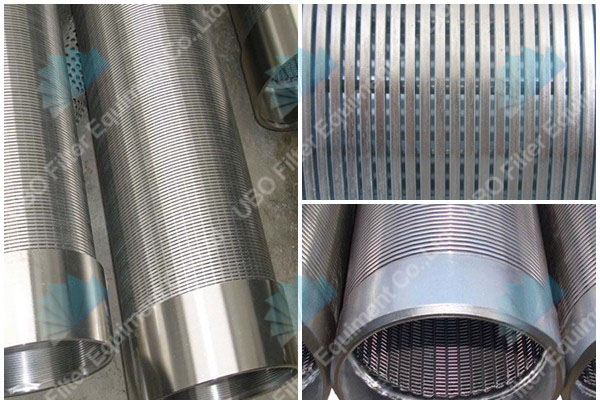 Ubo is specialized in producing and distributing wedge wire screen,lauter tun screens,sieve bend screen,sieve plate screen,water strainer&nozzle,screen nozzles,centrifuge screens and baskets,header-lateral.
Welcome to contact us for more information and cooperation.0086-0311-83289301.