The advanced Profile Wire Slotted Tubes technology provides superior weld strength and accurate slot openings. The accurate V-shaped wires provide free flow and optimal sand control.

A large number of support rods increases tensile strength and achieves rounder and stronger screens.
The screen jacket is fully pickled and passivated for maximum corrosion resistance.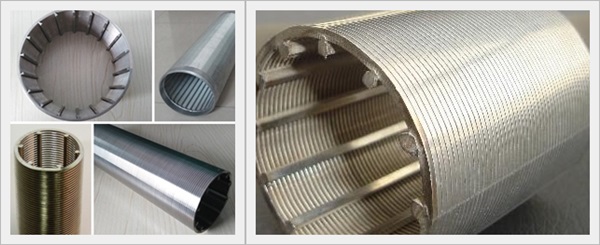 Application of Profile Wire Slotted Tubes
Used in industries such as Sugar, Coal Mining & Quarrying, Mineral Processing, Cement, and Industrial & Urban Effluent Treatment etc.
Used as a pre-filter in urban & industrial waste treatment plants to improve the performance of the clarifier by dramatically reducing the load.
Used for fiber removal in Starch industry.


Advantages of Profile Wire Slotted Tubes
The Wedge Wire Screen is composed of rod strips and V shaped wires through manufacturing on specialized welding machine. The rib strips and V shaped wires will be welded by resistance welding, has enough welding strength, equally slot gap, high corrosion resistance, large filter area, good permeability, simple structure
Features of Profile Wire Slotted Tubes
1) It has high mechanical strength, can bear large pressure drop.
2) It has equal slots for filtering, can form equally distributed filter cake, easy to clean for reuse.
3) The wedge type slot can improve backflushing and regeneration performance.
4) It has resistance to pressure, temperature, aging, corrosion, can be applied for different kinds of fluid.