Water well stainless steel sand free screen is made by winding cold-rolled wire, approximately triangular in cross section, around a circular array of the longitudinal rods. The wire is attached to the rods by welding, producing rigid one-piece units having high strength characteristics at minimum weights.


Our high quality custom built flat panel screens, manufactured either framed or unframed with a variety of support rods, offers a high strength, long lasting, economical solution to the market. They come in commonly shaped wedge wire profiles and offer good screening efficiency across a wide range of applications. Flat wedge wire screens are excellent for use to de-water, de-slim, drain and rinse, wet classify, dry classify, filter, dry and cool. They are recommended for use in any application that requires efficient liquid-solid separation.
Applications for Profile Bar Screens:
Petrochemical, Fish Diversion, Pulp & Paper, Waste Water, Food, and Architectural industries,sugar juice filtration, waste water treatment, crude oil and natural gas production and vessel internals solving problems of solid / liquid and solid / gas separation, filtration of oils, greases, paints, food products, water, fuels, liquid cooling agents, chemicals etc.
About Profile Bar Screens:
Water well stainless steel sand free screen consist of V-shape profile wire and the longitudinal support rods, each intersecting point of wires of Wedge Wire Well Screens is fusion welded, so it has sturdy construction and good mechanical property. The V-shape section plane of Wedge Wire Well Screens can avoid blockage, and make sure of the unimpeded water.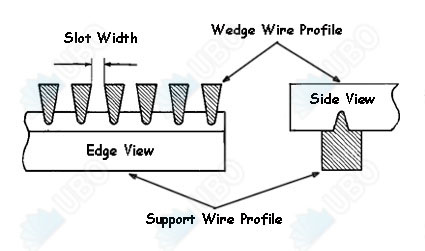 Features for Profile Bar Screens:

1) Wedge wire screen style isn't easy to be locked
2) Due to the different pressure between inside from outside,it could be very easily to clean the plugging material.
3) We are eager for long-terms cooperative parters ,our factory promise the best quality to have a high filtering accuracy, high strengh and durability
4) We have the most advanced equipments and the most professional workers , so totally could be as per customer's drawing to produce new styles .