Mechanical bar screen consists of a concave curved profile wire screen (also known as wedge wire / v / vee / wire screen) mounted in a frame with the screen openings perpendicular to the flow. Mechanical bar screen has greater capacity than a flat screen due to forces exerted as material flows against the curved surface.
Mechanical bar screens are also known as DSM screens, after Dutch State Mines, who introduced the sieve bend as a static sizing screen having ten times greater capacity than conventional vibrating screens.

Application of Mechanical bar screen
it can use with the deep well pump, dive the water pump, also may use in the water-treating equipment, the environmental protection, the sea water transforms into the industrial water and life use water desalination treatment, running water treatment, water softening treatment, the petroleum industry: The petroleum product terminal filters and the chemical acid, the alkali liquid filters, the ethyl alcohol and so on the organic solution recycling filter.
Features of Mechanical bar screen
Low Headroom - only 1.1 metres (44") tall for the 900 mm arc length unit.

Energy Efficient - operates with no moving parts and with no energy input.

Space Efficient - treats up to 122 litres per second per square metre of floor space.

Quiet Operation - no moving parts means no mechanical or electrical vibrations.

Accurate Sizing - can be used for sizing solid particles down to 0.2 mm (0.008").

Low Maintenance - the profile wire screen resists clogging by near-size particles, and the all-stainless steel construction ensures a long, corrosion-free installation.

Easy Screen Replacement - a typical screen can be replaced in 10 minutes with no tools.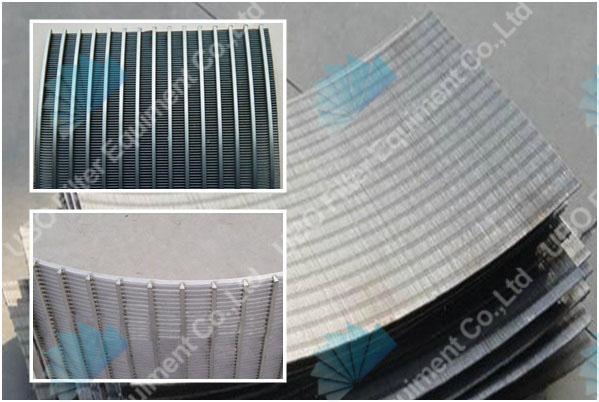 Ubo is specialized in producing and distributing wedge wire screen,lauter tun screens,sieve bend screen,sieve plate screen,water strainer&nozzle,screen nozzles,centrifuge screens and baskets,header-lateral.
Welcome to contact us for more information and cooperation.0086-0311-83289301.
Material: Raw material: Low carton, low carton galvanized steel (LCG), stainless steel (302,304,304L,304HC,316,316Letc.)
Wedge wire: 2x3mm, 3x5mm
Length: 0.5, 0.8 ,1.2 ,1.5meters.
Width:200-600mm
Radian: 120º
Slot size: 0.02mm ,0.05mm, 0.1mm, 0.35mm 0.5mm ,0.8mm, 1mm ,2mmalso achieved upon request.