The ss Wastewater bar screen plates are welded steel structure, used for filtration, separation and retention media.
It is available in a wide variety of shapes and sizes. From two basic forms, slot tubes and flat screens, almost all shapes and sizes can be developed to fit customers´ requirements.

The direction of the flow is determined by the position of the surface profiles in relation to the support profiles.

Wedge wire screens are either flow-out-to-in or flow-in-to-out.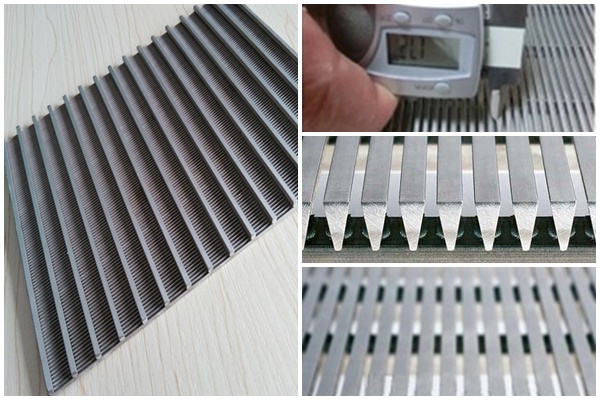 Application of Wastewater bar screen
ss wedge wire screen plates are used in a wide range of architectural situations such as floor grates to cover water run off drains in places such as driveways, car parks, shopping centers or malls. It can also solve the problems of solid / liquid and solid / gas separation, filtration of oils, greases, paints, food products, water, fuels, liquid cooling agents, chemicals.
Features of ss Wastewater bar screen
Low Headroom - only 1.1 metres (44") tall for the 900 mm arc length unit.
Energy Efficient - operates with no moving parts and with no energy input.
Space Efficient - treats up to 122 litres per second per square metre of floor space.
Quiet Operation - no moving parts means no mechanical or electrical vibrations.
Accurate Sizing - can be used for sizing solid particles down to 0.2 mm (0.008").
Low Maintenance - the profile wire screen resists clogging by near-size particles, and the all-stainless steel construction ensures a long, corrosion-free installation.
Easy Screen Replacement - a typical screen can be replaced in 10 minutes with no tools.
Characteristic of ss Wastewater bar screen
1.) Wedge wire screen style isn't easy to be locked
2.) Due to the different pressure between inside from outside,it could be very easily to clean the plugging material.
3.) We are eager for long-terms cooperative parters ,our factory promise the best quality to have a high filtering accuracy, high strengh and durability
4.) We have the most advanced equipments and the most professional workers , so totally could be as per customer's drawing to produce new styles.