Water slot well screen filter , also called wedge wire screen nozzle. It is made of stainless steel wire, which is the most popular type because of outstanding chemical stability and corrosion resistance.
The wedge wire screen filter is composed of working profile and support profile. It is produced on an automotive machine. The support profiles is placed on the suit position of the machine, during the surface profiles are spirally wounding, the support profiles are welded onto the surface profiles.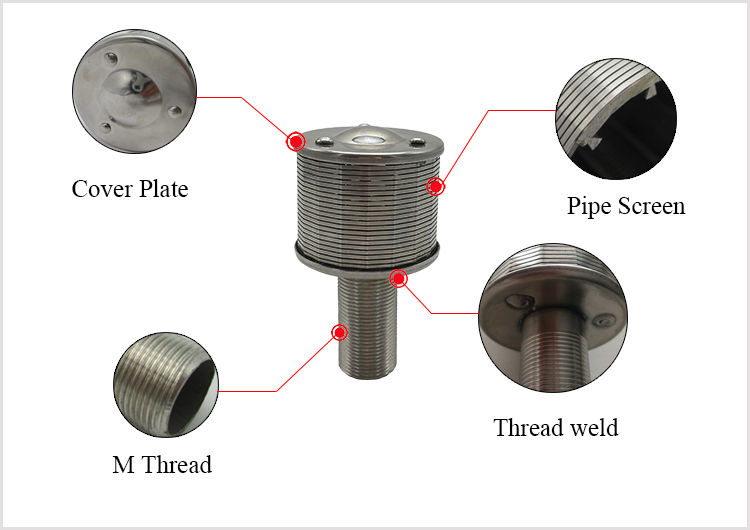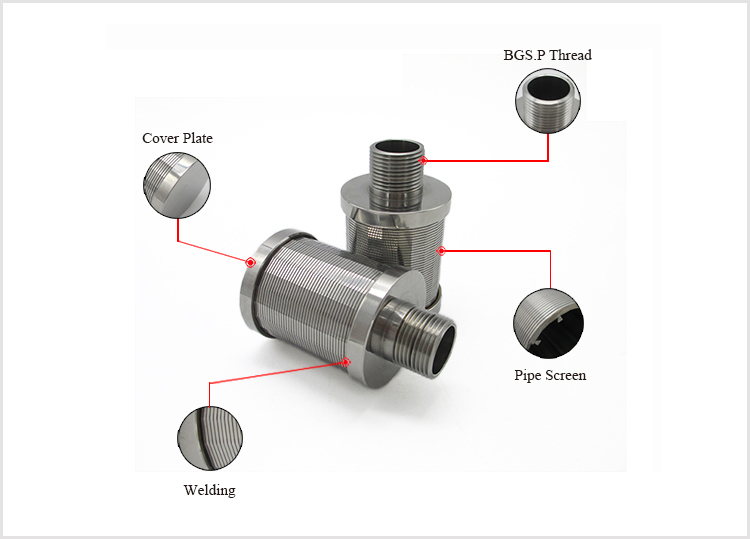 Features of Water Slot Well Screen Nozzle Filter
-- High strength;
-- Good resistance to abrasion and corrosion;
-- High rigidity;
-- Good in filtration and fluidity;
-- Flat panel surface;
-- Fairly well precision and roundness;
-- Long work time.
-- Easy to clean and back wash;
-- Uniform gap.
Structure of Water Slot Well Screen Nozzle Filter
1) We use wedge-shaped profile wire in order to make the slot v-shaped.It can stop the impurities very well.
2) The wedge wire was welded on the support wire well-proportioned and have perfect roundness. Ensure the screen have bigger filter area and non obstructive, avoid the high concentration of impurities.
3) After work for a period of time, the filter can be back flush.It can use for many times.
Filtering direction from outside to inside (FOTI)
Applications of Water Slot Well Screen Nozzle Filter
Wedge wire Screen Filter nozzles are widely used in various industries, especially suitable for water treatment or liquid filtration. The main part of the nozzle is stainless steel wedge wire screen. It's a new type filter component.