Wedge v wire flat grids screen panel can also be called Wedge Wire Screen flat panel, wedge wire sieve bend screen,stainless steel screen plate.

The wedge v wire flat grids screen panel is primarily influenced by the screen width, the slot opening, and the wire size (width). Installation angle, feed velocity and uniform distribution across the screen are also very important.
Wedge v wire flat grids screen panels are composed of surface profile and support profile. The surface profile is commonly triangle wire, and the support profile can be triangle wire, wedge wire, round bar and rectangular bar. They can suit different machines and can be used in various applications.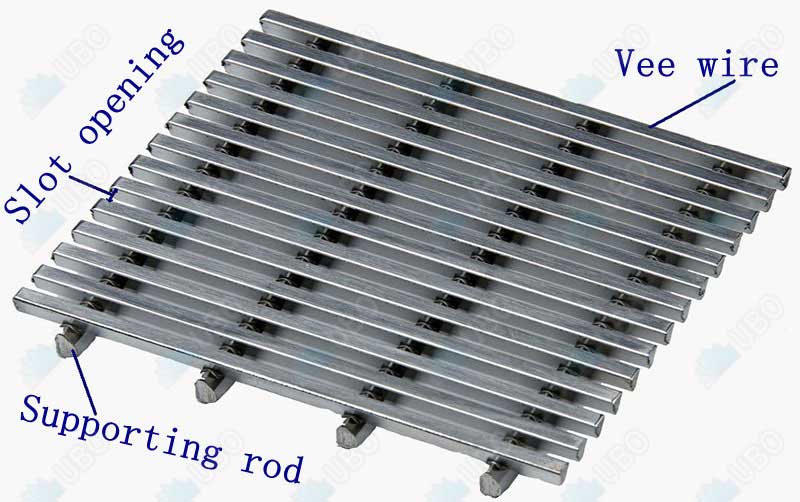 Feature of Wedge v wire flat grids screen panel used for industry filtration
Flat grids have their filtering effect from the outside to the inside.
The grids can, according to the wishes of the customer, be made in different shapes and sizes.
Flat grids consist of profiles that are welded on support bars.
The outside of the work surface is smooth.
Grids can be made with frames and supports in all sizes and shapes.
Usages of Wedge v wire flat grids screen panel used for industry filtration
1.) Widely used in vairous kinds of medium filtering
2.) As the fitting using in the water-treating equipment ( the environment protection; the sea water transforms into the industrial water and life use water desalination treatment; running water treatment; softening treatment;
3.) The petroleum industry: the petroleum product terminal filters and the chemical acid; the alkali liquid filters, the ethyl alcohol;
4.) The organic solution recycling filter