UBO'S V-Wire flat screens can be used in a variety of applications ranging from classifying to recovering usable products that would end up in sewer line to capturing solids from effluents.
Application of V-Wire flat screens for Deep desalting treatment
They are used in industries such as Sugar, Coal Mining & Quarrying, Mineral Processing, Cement, and Industrial & Urban Effluent Treatment etc. Sieve bend screens are also used as a pre-filter in urban & industrial waste treatment plants to improve the performance of the clarifier by dramatically reducing the load. Widely used for fiber removal in Starch industry.
Features of V-Wire flat screens for Deep desalting treatment
Low Headroom - only 1.1 metres (44") tall for the 900 mm arc length unit.
Energy Efficient - operates with no moving parts and with no energy input.
Space Efficient - treats up to 122 litres per second per square metre of floor space.
Quiet Operation - no moving parts means no mechanical or electrical vibrations.
Accurate Sizing - can be used for sizing solid particles down to 0.2 mm (0.008").
Low Maintenance - the profile wire screen resists clogging by near-size particles, and the all-stainless steel construction ensures a long, corrosion-free installation.
Easy Screen Replacement - a typical screen can be replaced in 10 minutes with no tools.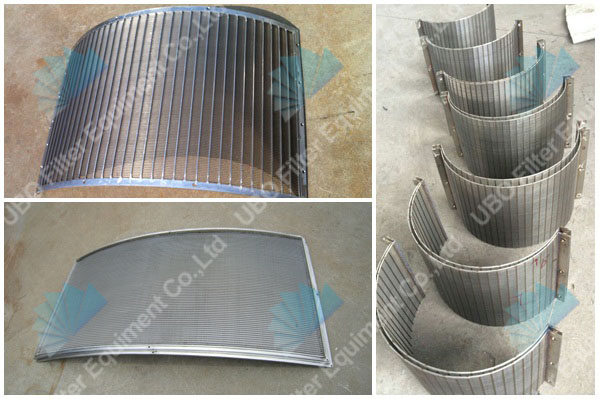 A continuous slot screen sieve bend gives you a great amount of open area, is significantly more affordable and requires less maintenance than vibrating or rotary drum options.
It's made of support rod and wire , wire shape is normally triangle wire ,
support rode shape could be triangle wire, round wire , cuboid wire .
Ubo is specialized in producing and distributing wedge wire screen,lauter tun screens,sieve bend screen,sieve plate screen,water strainer&nozzle,screen nozzles,centrifuge screens and baskets,header-lateral.


Materials :SS 304,316,316L, Stainless steel and carbon steel.
Wire Diameter: 0.5mm-5mm
application:application in water treatment,oilfield,mining,food industry,chemical industry,papermaking industry,decoration.
Surface treatment: polishing ,chroming
characteristics:High filtering accuracy , High strengh and durability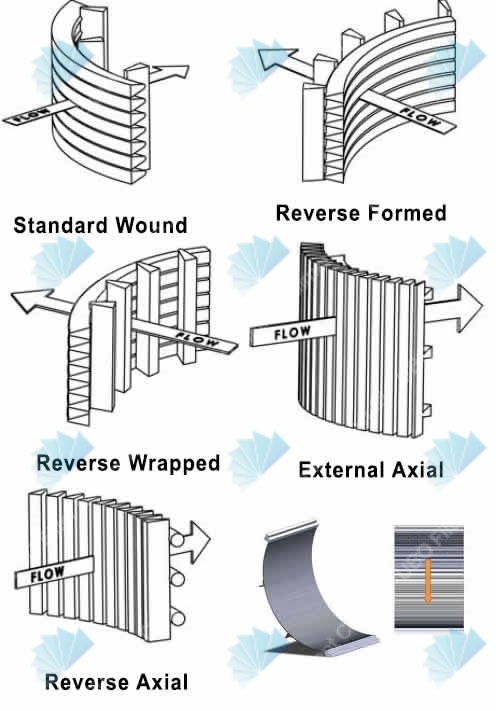 Specification (wedge wire):

Width(mm): 1.50 1.80 2.30 3.00 3.30 3.70

Height(mm): 2.20 2.50 2.70 3.60 4.30 4.70 5.60 6.30 7.00

Specification (support rod):

Width(mm): 2.30 3.00 3.30 3.70

Height(mm): 2.70 3.60 4.70 5.60 6.30

Note: other specifications available as per request

Slot size

0.10, 0.15, 0.20, 0.25, 0.30…… 6.00mm also achieved upon request.

Material:

galvanized low carton (LCG), stainless steel (304,316 etc.)

Length

up to 6 meters.

Diameter

from 25mm to 1200mm.

End connection

Plain beveled ends, flanged or threaded couplings