Curved (rolled) wedge wire screen is utilized as conveyor and auger screening media in dewatering applications. Wedge wire conveyor / auger screens usually have axial wires and are half cylinders. Other configurations are also produced.
Stainless steel wedge auger screens can be constructed using round
support rods or rectangular support rods. Positioning a support rod at the wire ends
supports the wire ends and can be used for mounting purposes
Custom framing and reinforcing can be added for ease of installation and to meet strength requirements.
Features of Conveyor Drain Screens
Low Headroom.
Energy And Space Efficient .
Corrosion Resistance.
Quiet Operation.
Accurate Sizing
Low Maintenance
Easy Screen Replacement
Long Using Life.
Used of Conveyor Drain Screens
The uses are sewage treatment, laundry wash water clean-up, poultry, fish, fruit and vegetable wastewater processing, minerals processing, coal preparation, paper production, textile plants, and many more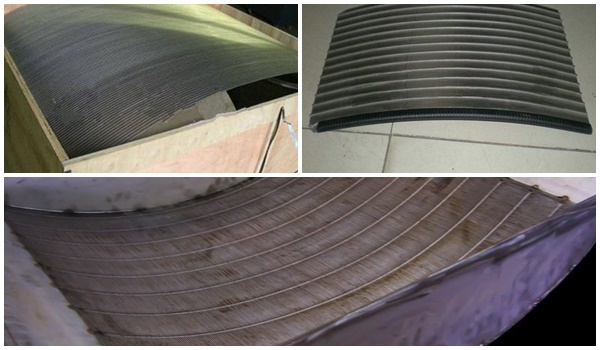 Ubo will do everything possible to provide exact and full product information based on metal mesh for your information.
In order to give customer a clear image of the product,Ubo has taken some pictures, customer can dowmload for reference but using our picture for business is forbidden.
Due to technique and other factors,product image might be slight different to the products itself,in case everything will follow the products.
Ubo appreciate any suggestion on our product information or picture or anything else.