Stainless Steel Porous Filter Cartridge is a non-woven filter made of laminated, sintered layers of metal fiber felt (stainless steel is standard). ubo METAL FIBER has a typical deep filtration structure giving high filtration efficiency, low filtration resistance, and a large contaminant retention capability.



Applications for Stainless Steel Porous Filter Cartridge:
The filter has been widely used in transfomer oil, turbine oil, hydraulic oil, aviation kerosene, petrolum, chemical, power plant, coal carbon, mining, pharmaceutical, food and engineering industries.


Advantages for Stainless Steel Porous Filter Cartridge:
This medium has excellent heat resistance, pressure resistance, and corrosion resistance, and it is used for high temperature, high viscosity fluid filtration.
It gives outstanding performance, especially in the removal of gel contaminants in high molecular polymer. These filtration properties ensure increased product quality during manufacturing processes and extended filter life. All this adds up to higher productivity and lower costs.


Features for Stainless Steel Porous Filter Cartridge:
1) Large dust holding capacity, high filtration precision, pressure raises slowly,a long cycle period.
2) High porosity and excellent permeability, small pressure loss, high flow.
3) Corrosion resistance, high temperature resistance, resistance to corrosion of acid, alkali, organic solvents and drug, at 480 °C environment for long-term use.
4) Easy processing, forming, and welding.
5) Be produced according to user requirements are particularly enhanced, thickened type, intensive network type and various other specifications.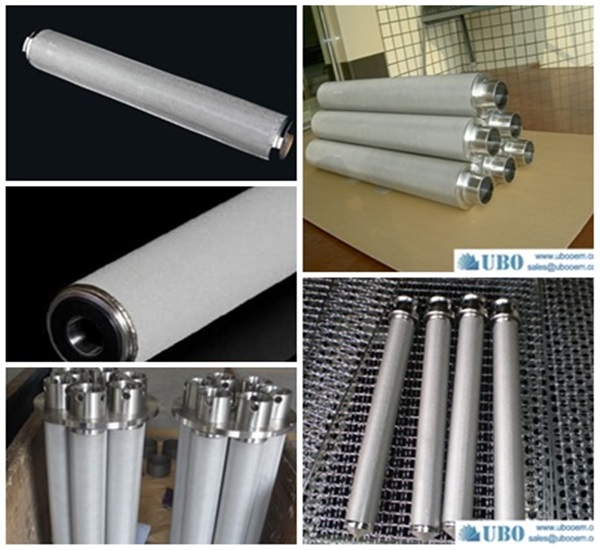 Standard plate size:500 mm x 1000 mm, 1000 mm x 1000 mm
Configuration:
Tubular size: Dia. (mm) 14, 25, 50, 60 Pleats: Dia. (mm) 35, 50, 60
Length:any size available
Disc:Dia. 30 to 400 mm (With frame)
Leaf disc:4.4B - 12B
Thickness:0.30 to 0.65 mm
Filtration rating:3 to 60 microns
Service temperature:-269 to 480