Basket strainer filter is composed of pipe, shell, basket filter, flange, flange cover, fastener, etc. when filter medium pass through basket filter, solid particle are retarded in basket filter. While the clean medium pass the basket filter and expel from outlet. When cleaning, turn on plug screw in the bottom, then discharge fluid, remove flange cover, after clean, reinstall it.
Features of RTJ Temporary Basket Strainer:
Stable performance, reliable quality, attractive surface; Excellent resistance to acid, alkali, high temperature, wearing, and distortion; Resuing possible.
Filter the precision to be possible from 50-200um for the customer choice,this product has anti-corrosive,bears broken high,the service life is long. Filters the precision for superiority and so on absolute value,in the normal service condition,this product lifelong may clean,exempts the replacement.
Application of RTJ Temporary Basket Strainer:
Medical sterilization, pasta, meat grill, living with flowers, basket, basket, basket, plate utensil rack, racks, with various supermarket basket, turnover box; hotel with drinks, food shelf; office with low file basket, basket, books, newspaper, rack, such as pet cage.
Equipment Parameter for RTJ Temporary Basket Strainer:
Material: GB150&ASME VIII-1
Vessel Material: Carbon Steel, Stainless Steel
Filter Element Material: S S square mesh screen, spiral wound pipe, perforated plate, etc.
Element Strength:> 1Mpa
Vessel Diameter: <1200mm
Filter Precision: 50~2000microns

Ubo can also fabricate any wire cloth, perforated, or expanded metal product. Some of our fabricated wire mesh products include, but are not limited to:
Wire Mesh Baskets
Wire Mesh Liners
Wire Mesh Trays
Wire Mesh Strainers
Wire Mesh Filters
Wire Mesh Extruder Screens
Wire Mesh Special Shapes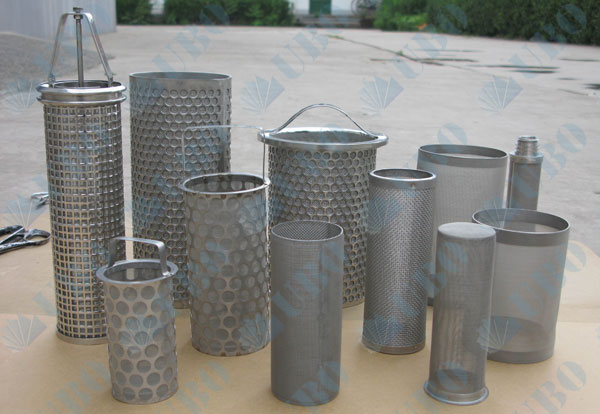 Raised Face Temporary Basket Strainers (Truncated Cone) are available in Carbon Steel, 304SS and 316SS perforated material.
Standard gauge of strainer material ranges between 11 to 22 depending on hole size. Special thickness are available.
Normally supplied with 1/8" diameter hole on 3/16" centers. Most size of perforations available. If mesh lined, please specify flow direction.
Heavy Machined Flange (with O-Ring) for seal between strainer basket and strainer housing.
14 ga. (0.078" thick) perforated sheet with ¼" dia. holes, 3/8" staggered centers, 40% Open Area is our 'standard'. The Perforated Strainer Basket can be supplied with any size hole and perforated pattern required.
All SaniClean Basket Strainers are built to accept industry standard Filter Bags. Filter Bags are available in different materials, types of weaves, and ranging in retention rate from 1 – 1500 microns. (See page 10).
Shown with Filter Bag Hold Down Ring
Shown with Quick Release Handle.
Ubo Filter Co.,Ltd could supply stainless steel filter elements,filter element, filter disc, sintered filter,filter strainer,polymeric filter,basket filter, wire mesh filter ,pleated filter