Description of wedge wire screen for Filter Support Cores
---
Wedge wire screen is composed of ribs and V—winding wire, manufactured with advanced special welding equipment.Ribs and V—winding wire are connected with resistance weld by special equipment and has the advantages, such as, high welding strength, homogeneous gap, corrosion resistance, large effective filtration area, good permeability,simple structure, and slot size is 20 micron or larger for users to choose freely.

Application of wedge wire screen for Filter Support Cores
1.Architects specify Wedge Wire Screen for column and wall covers and various decorative appplications;
2.Different kinds and specification of screens are used in moter-pumbed wells and geothermal wells;
3. Wedge Wire Screen are used on food processors;
4.pulp and paper plants;
5.Mineral procesors,refiners,waster water treatment and water supply systems.
Feature of wedge wire screen for Filter Support Cores
The Wedge Wire Screen is composed of rod strips and V shaped wires through manufacturing on specialized welding machine. The rib strips and V shaped wires will be welded by resistance welding, has enough welding strength, equally slot gap, high corrosion resistance, large filter area, good permeability, simple structure.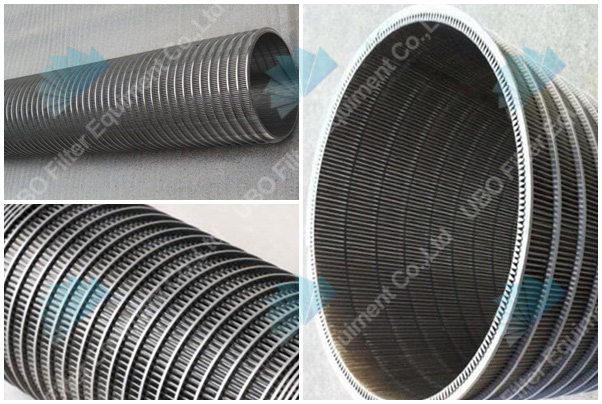 Specification of the wedge wire screen for Filter Support Cores
---
Material: Low carton, low carton galvanized steel (LCG), steel treated with plastic
spraying, stainless steel (304,316etc.)
Length: lengths up to 6 meters.
Diameter ranging from 1 inch -----45 inch.
Slot size: 0.10, 0.15, 0.20, 0.25, 0.30,....., 3.00 also achieved upon request.
End connection: Plain ends of threaded or welded cap.
Open area up to 60%.

Production And Sales of wedge wire screen for Filter Support Cores
---
Ubo is specialized in producing and distributing wedge wire screen,lauter tun screens,sieve bend screen,sieve plate screen,water strainer&nozzle,screen nozzles,centrifuge screens and baskets,header-lateral.
Welcome to contact us for more information and cooperation.0086-0318-5183242.