Description of Wedge Wire Screen Flat Panel
---
Wedge Wire Screen flat panel is designed to optimize the open area, strength and working life for each application.
The panels are continuously welded on the lower side of loop to provide complete rigidity to the panels thus becoming very effective in transmitting the vibrations without mechanical failures.
Advantages of Wedge Wire Screen Flat Panel
A continuous slot opening which significantly increases the available open area, thus providing a greater access to the water bearing zone.
A 'V' shaped profile wire which avoids clogging and ensures uninterrupted flow.
A uniform and efficient well development due to the continuous slot opening.



Application of

Wedge Wire Screen Flat Panel
Used in industries such as Sugar, Coal Mining & Quarrying, Mineral Processing, Cement, and Industrial & Urban Effluent Treatment etc.
Used as a pre-filter in urban & industrial waste treatment plants to improve the performance of the clarifier by drastically reducing the load.
Used for fiber removal in Starch industry.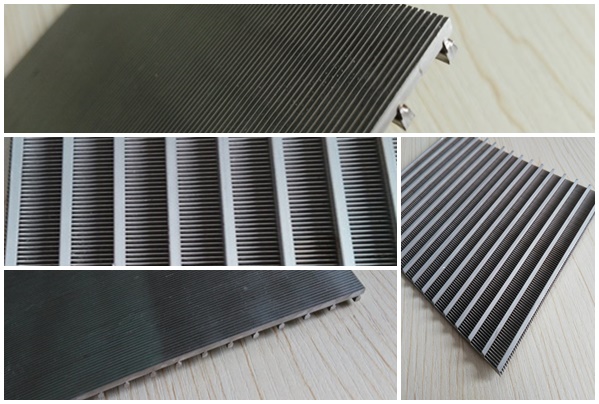 Specification of the Wedge Wire Screen Flat Panel
---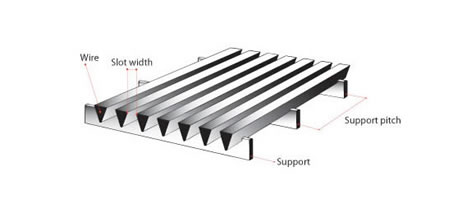 Material

high carbon steel wire, low carbon steel wire, stainless steel wire,Mn-steel,polyurethane

Wedge Wire (mm)

Width : 1.50 1.80 2.30 3.00 3.30 3.70

Height : 2.20 2.50 2.70 3.60 4.30 4.70 5.60 6.30 7.00

Support Rod (mm)

Width : 2.30 3.00 3.30 3.70

Height : 2.70 3.60 4.70 5.60 6.30

Round : 2.50mm -- 6.0mm

Slot Size

0.02 -- 6.00mm ,also can be customized as your request.

Length

Max 6 meters.

Width

25mm -- 1200mm.

End connection

Plain beveled ends, flanged or threaded couplings

Note: Other specifications can be customized according to your requirement.
According to the different materials, the mesh can be divided into the following types:
New abrasion-resistance alloy mesh plate,
High-efficiency abrasion-resistance alloy mesh plate
Stainless steel foundry mesh plate
Spray coating mesh plate
Bead-on-plate welding mesh plate
Abrasion-resistance
Abrasion-resistance cast steel mesh plate
Ordinary mesh plate
Production And Sales of Wedge Wire Screen Flat Panel
---