The dewatering capacity of a wedge wire cross-flow sieve panels is primarily influenced by the screen width, the slot opening, and the wire size (width). Installation angle, feed velocity and uniform distribution across the screen are also very important.
Features of Wedge wire Cross-Flow Sieve Panels
-- High strength
-- Excellent performance
-- Fine finish
-- Typical static panels, including architectural panels, will have a surround frame welded around the screen
Features of Wedge Wire Cross-Flow Sieve Panels
-- Smooth surface finish
-- Cut to any custom-made shape and designed to cater for your special needs
-- Designed to maximize the open area, strength and wear life to suit any application
-- Cost effective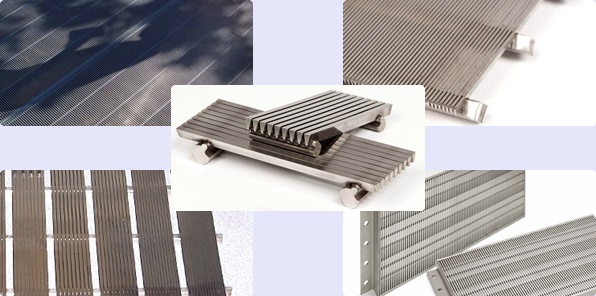 If you can envision it,We can supply it. TEL:0086-0311-83289301 E-mail:sales@ubooem.com
Ubo will do everything possible to provide exact and full product information based on metal mesh for your information.
In order to give customer a clear image of the product,Ubo has taken some pictures, customer can dowmload for reference but using our picture for business is forbidden.
Due to technique and other factors,product image might be slight different to the products itself,in case everything will follow the products.
Ubo appreciate any suggestion on our product information or picture or anything else.
Slot size: 0.10, 0.15, 0.2, 0.25, 0.30mm, up to 3mm.
Open area: up to 60%.
Material: low carbon, low carbon galvanized steel (LCG) steel treated with plastic. spraying, stainless steel (304).
Lengths up to 6 meters.
Width: ranging from 25 to 2000mm.