Ubo has rich experiences in producing wire mesh filter fittings including Stainless steel filter basket, metal filter cartridge, metal filter cylinder, metal filter disc, and other filter elements. Resen can supply full range products with complete quality control The products are mainly used in chemical fiber, petroleum, chemical industry, electric power, pharmaceutics, machinery, metallurgy, ceramics, dispose of sewage, foodstuff and beverage, cosmetic etc. Major materials used are stainless steel woven wire mesh, perforated metal, expanded metal and metal fiber web. The outside sizes and filtration rating can be custom made.
Feature of stainless steel basket filter
1.Stainless steel filter basket is made of stainless steel, aluminum, nickel-plated copper and other available metal as media. It has the characteristics of long life span, easy cleaning, low cost, etc.
2.Professional technology:It is made through cutting, folding border craft.

Characteristics of stainless steel basket filter
The shapes have circular, ellipse, rectangle, cylinder, conical, single piece or multiple, layered, or according to customer's demand.Attractive appearance, Excellent life and durable, Non-toxic and harmless, and the effect of filtration is good. The firm welding is its best advantage etc.
Application of stainless steel basket filter
it is suitable for filtration of oil, chemical, mineral, food, pharmaceutical, metallurgy, etc.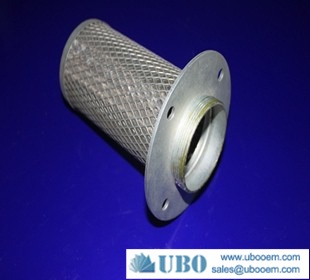 Material: Stainless Steel Wire, high quality low carbon steel wire with galvanized or polished process.
Mesh wire diameter*opening: 0.32mm*0.5mm
Selvedge wire diameter: 5mm
Basket height: 25cm
Upper external diameter: 33.02cm
Upper internal diameter: 25.40cm
Bottom diameter: 22.86cm
Steel plate width:3.81cm
Handle height: 15.24cm