Stainless steel wedge wire tube is with high-pressure, high temperature and chemical corrosion resistance. It also has good air permeability, high dirt holding capacity and long-life service time can repeat use by clean, is the ideal filter element for petroleum, chemical and synthetic fiber industries.
Application for Stainless Steel Wedge Wire Screen Tube:
The v wire wedge wire screen tubes are mainly used for the water-treatment , water well drilling ,oil well drilling ,mineral processing, coal-cleaning plant ,sewage treatment and other industries,water, oil or gas filter and other filtration equipment.


Advantages for Stainless Steel Wedge Wire Screen Tube:
Wedge Wire Screen is composed of rod strips and V shaped wires through manufacturing on specialized welding machine. The rib strips and V shaped wires will be welded by resistance welding, has enough welding strength, equally slot gap, high corrosion resistance, large filter area, good permeability, simple structure


Features for Stainless Steel Wedge Wire Screen Tube:
1) Good Gas Permeability
2) Good Resistance to Corrosion, Heat, and Abrasion
3) Homogeneous Pore Distribution, High Filtering Precision
4) High Flow Quantity per Unit Area
5) Good Chemical Resistance
6) It is made of 100% stainless steel, with back flushing function
7) Adopt woven SS mesh as filter cartridge, with high gas permeability, large dirt holding capacity, and long service life.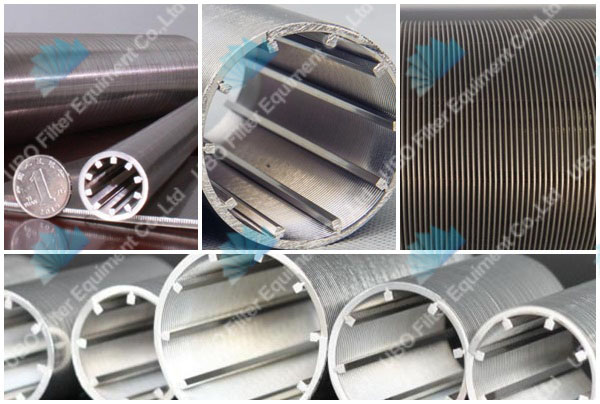 316 Stainless Steel Sintered Tube Technical Parameters:

Working Pressure≤31.7Mpa

Working Temperature≤300oC

Medium Viscosity≤260Pa.S
Allow Pressure Drop≤10Mpa

Dirt Holding Capacity≥16.9~41Mgcm2
Wire Size

Width(mm): 1.50 1.80 2.30 3.00 3.30 3.70
Height(mm): 2.20 2.50 2.70 3.60 4.30 4.70 5.60 6.30

Support Rods

Width(mm): 2.30 3.00 3.30 3.70
Height(mm): 2.70 3.60 4.70 5.60 6.30

Note: other wires and rods available upon request

Slot Size

0.10, 0.15, 0.20, 0.25, 0.30…… 6.00mm also achieved upon request.

Material:

Low carton, low carton galvanized steel (LCG), stainless steel (304,316 etc.)

Length

Lengths up to 6 meters.

Diameter

ranging from 25mm to 800mm.

End Connection

Plain beveled ends for butt welding or threaded