Stainless Steel Wedge Wire Basket Filter
1.Stainless Steel Wedge Wire Basket Filter Materials: Titanium wire, Nickel wire, Stainless steel wire, Galvanized wire, Iron wire , Steel wire.
2.Stainless Steel Wedge Wire Basket Filter Characters: Mine screen meshes are new products in the line of wire mesh. They have the characters of easy leakage, corrosion resistant, abrasion resistant. It is strong to be acidproof, alkali resisting, bear high temperature, pulling force etc.
3. Stainless Steel Wedge Wire Basket FilterApplications: Widely uses in mine, coal, oil, fertilizer, grain, salt, and environmental protection industries.
For filtering of liquid, the powder material. On petroleum, chemical industry, metallurgy, mine, medicine purifies, the drilling mud purifies the equipment in particular the important fitting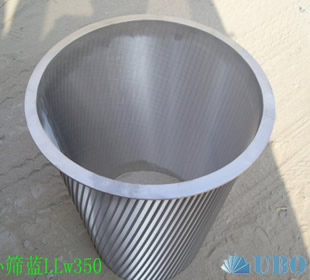 If you can envision it,We can supply it. TEL:0086-318- 5183240 E-mail:sales@ubooem.com
· Ubo will do everything possible to provide exact and full product information based on metal mesh for your information.
· In order to give customer a clear image of the product,Ubo has taken some pictures, customer can dowmload for reference but using our picture for business is forbidden.
· Due to technique and other factors,product image might be slight different to the products itself,in case everything will follow the products.
· Ubo appreciate any suggestion on our product information or picture or anything else.
For filtering of liquid, the powder material. On petroleum, chemical industry, metallurgy, mine, medicine purifies, the drilling mud purifies the equipment in particular the important fitting