Cone strainer is installed on the pipe to remove the larger solid impurities in the fluid so that the machinery, equipment and the instrument can work and operate the normally resulting in a stable procedure and safe produce environment.
Conical Strainers are very low cost protection for process equipment against damage causing contamination present during Start-up and Commissioning. Conical strainers are for temporary use and thrown away after initial cleaning of the system. The down side to a Conical Strainer is they are sandwiched between two flanges therefore requiring an accessible section of pipe, such as removable spool pieces. Conical strainers can be manufactured in a range of different configurations to suit your specific requirements, size, length, filtration level, identification marks, supports…etc.
Application for Stainless Steel Conical Strainer:
1.Chemical, petrochemical production in weak corrosive materials, such as: water, ammonia, oil, hydrocarbons.
2.Chemical production corrosive materials, such as: caustic soda, concentrated sulfuric acid, carbonic acid, acetic acid.
3. Cryogenic refrigeration materials, such as: liquid methane, ammonia, oxygen and a variety of refrigerant.
4. Light food, pharmaceutical production materials hygiene requirements, such as:Beer, beverages, dairy products, grain syrup medicine and other supplies.
Feature for Stainless Steel Conical Strainer:
1.The product is sell well in home and abroad.
2.It is in good quality and lowest price
3.Customized size are accepted,customized packing are welcome
4.Customized logos and designs are accepted
5.Corrosion resistance, high and low temperature resistance, pressure resistance, good wear resistance, long use period
Stainless steel filters Feature:
Stainless steel filters and strainers offer a high degree of corrosion resistance. Many of the process industries that use metal filters and strainers introduce moisture or caustic fluids to the filtering element. For these reasons, stainless steel is a natural choice. Thanks to advances in welding technology, many of the filters and strainers that were historically made from Monel are now constructed with cost effective, long lasting stainless steel. Roughly 90 percent of the metal filters and strainers manufactured by Steel Long are constructed with stainless steel for these reasons.
UBO Company:
ubo provide a whole range of perforated stainless steel temporary strainers which are mainly are designed to remove foreign particles from pipelines.They are produced completely of high-grade stainless steel in fully welded design. They are made of perforated plate or of perforated plate with fabric filter medium related to the filter rate. The compact design guarantees a minimal space requirement. It is available in filter rates of 250, 500, 1000 and 5000 µm.
Material selection is determined primarily by application. High heat and caustic or corrosive environments often require the use of stainless steel filters and strainers. Stainless steel filters are common in chemical, food, marine, and pharmaceutical applications. When selecting the material, be sure to include as much information as possible regarding the operating environment for the metal filter or strainer and we will make recommendations based on your specific needs.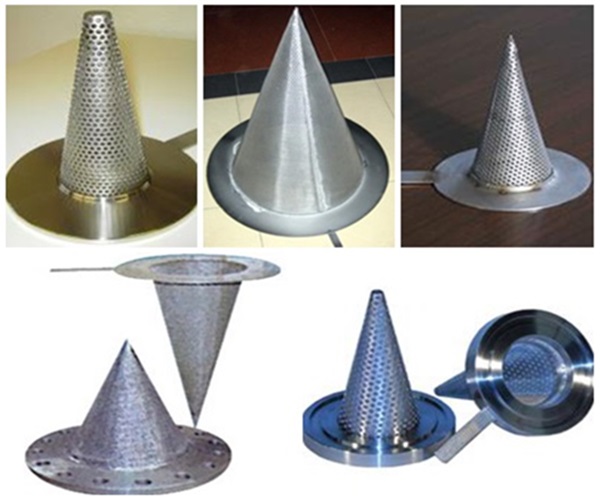 Conical
• Sizes: 0.5" (15mm) to 30"+ (750mm+)
• Various S/S, Monel, Duplex, Carbon
• Maximum pressure rating class 2500lb+ (172 BarG+)

High Pressure
• Sizes: 0.5" (15mm) to 30"+ (750mm+)
• Various S/S, Monel, Duplex, Carbon
• Maximum pressure rating class 2500lb+ (172 BarG+)

Witches Hat
• Sizes: 0.5" (15mm) to 30"+ (750mm+)
• Various S/S, Monel, Duplex, Carbon
• Maximum pressure rating class 2500lb+ (172 BarG+)

Wedge Wire
• Sizes: 0.5" (15mm) to 30"+ (750mm+)
• Various S/S, Monel, Duplex, Carbon
• Maximum pressure rating class 2500lb+ (172 BarG+)