Wire mesh filters are often used in industry applications that require screening and filtration to prevent products from becoming contaminated with debris during processing. Some of these industries can include oil and gas operations, petrochemical processing, and power generation (for water circulation through cooling towers), and they can also be used in polymer processing and other manufacturing applications.
usage for stainless steel sintered filter disc:
petroleum, oil refining, chemicals, light industry, medicine, metallurgy, machinery, ships, automobile, tractors, absorption, evaporation, filtration , eliminating droplet , droplet of vaporor gas , air cleaner of automobile and tractor
Product Characteristics for stainless steel sintered filter disc:
a. Complex structure, high filtering precision
b. Large dirt holding capacity, long service life time
c. Good corrosion resistance and pressure resistance
d. Increased flow quantity per unit area
e. woven type stainless steel mesh, with homogeneous pore distribution, high strength, and easy to clean.
Processing Technical for stainless steel sintered filter disc:
Double-layer or three-tier spot welding, welding spot is generally ranging from 4-10, but also according to customer requirements, single and double edging
Filtration for stainless steel sintered filter disc:
*Plastics recycling
*Foiling processes (blown, level, glass, tube, foam and deep drawn)
*Cable production
*Coating and laminating processes
*Filament production (yarns filaments, fleeces)
*Granulate production (monomers, polymers)
*Raw materials and semi-finished products (tubes, panels, profiles, pipes)
*Rubber processing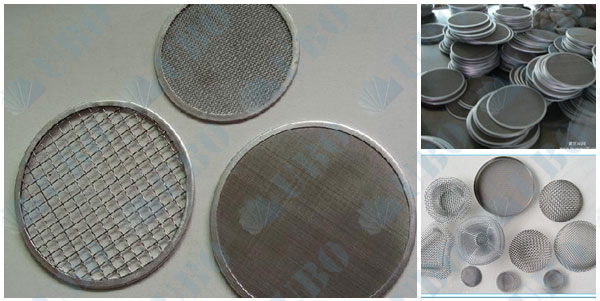 If you can envision it,We can supply it. TEL:0086-0311-83289301 E-mail:sales@ubooem.com
· Ubo will do everything possible to provide exact and full product information based on metal mesh for your information.
· In order to give customer a clear image of the product,Ubo has taken some pictures, customer can dowmload for reference but using our picture for business is forbidden.
· Due to technique and other factors,product image might be slight different to the products itself,in case everything will follow the products.
· Ubo appreciate any suggestion on our product information or picture or anything else.