Titanium powder sintered filter disc is made of sintered wire mesh plate (filter media ),with good capacities of back wash ,recycle,long time working .It is widely used in automation and continulus operation system.


It is a porous metal panel which consists of multiple meshes and is sintered (diffusion-bonded) into one panel. It usually consists of protection mesh, filter mesh and support mesh and its combination is depending on needs or requirements
.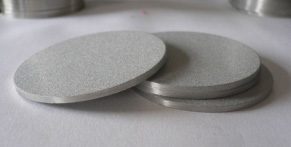 Applications for Titanium powder sintered filter plate:
Filter discs are mainly used in the absorption, evaporation and filtration process in petroleum, chemical, medicine, metallurgy, machinery, ship and automobiles to delete the mist drop or 316 Sintered Filter Plate Weaving: Plain or twill woven wire cloth can be processed into filter discs of various sizes.
Features for Titanium powder sintered filter plate:
1) High strength and rigidity
2) Continuous operating temperature range of -200° to 600°C
3) Corrosion-resistant
4) Abrasion-resistant
5) Easily cleaned
Work environment for Titanium powder sintered filter plate:
Nitric acid, sulfuric acid, acetic acid, oxalic acid, phosphoric acid, 5% hydrochloric acid, molten sodium, hydrogen, nitrogen, hydrogen sulfide, acetylene, water vapor, hydrogen, gas, carbon dioxide gas environment