This type of sintered wire mesh laminate is made by taking several layers of woven wire mesh and sintering them to a layer of perforated metal. The woven wire mesh layers consist of a filter layer, a protective layer, and possibly a buffer layer between the fine mesh layer and the perforated plate. The perforated plate is then added as the base and the entire structure is sintered together to form a very strong yet tractable plate. Due to the support of the perforated plate, this type of sintered wire mesh laminate has a high resistance to pressure and high mechanical strength. It is suitable for a variety of applications which require fine filtration, but also the need to protect and preserve the filtration layer. One example of an application is in oil wells, where fine particles need to be filtered under extremely high pressure conditions.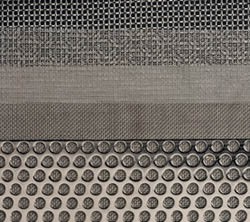 Applications for Perforated Metal Sintered Wire Mesh Filter:
1) Used in food and beverage industry(milk powder,tea,coffee and etc)
2) Used in chemical and pharmaceutical industry(pharmaceutical products,plastic Recycling and Precision sieving of powders and etc.)
3) Used in petrochemical industry.
4) Used in water treatment system.
5) Used in aerospace industry.
Features for Perforated Metal Sintered Wire Mesh Filter:
1) High mechanical strength and compressive strength.
2) High dirt holding capacity
3) Extremely high porosity rating
4) Excellent back-washing ability
5) Good Corrosion resistance
6) Good heat resistance
7) Easy machining
8) Difficult deformation
Advantages for Perforated Metal Sintered Wire Mesh Filter:
1) High dirt holding capacity, high filtering accuracy, slowly rising of pressure, longer changes cycle.
2) Corrosion resistance of nitric acid, alkali and organic solvent and medicine. It can be used for a long period of service in the temperature of 600°C.
3) High porosity and excellent permeability which results in low pressure drop and large flow.
4) Provide a large filter area per unit of volume, and it can be welded and machined.
5) Cleanable and recycled.
Technique for Perforated Metal Sintered Wire Mesh Filter:
UBO filter mesh is shaped by the model of the specialed stamping machine. Such shapes as round ,oval,square,bowl round,hat shape and so on. The shape of the filter mesh can be made according to customers requirements. And our high technique low the cost of the filter meshes.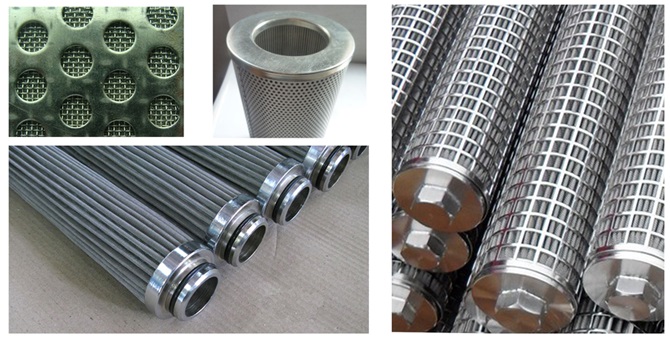 Ubo Filter Co.,Ltd could supply stainless steel filter elements,filter element, filter disc, sintered filter,filter strainer,polymeric filter,basket filter, wire mesh filter ,pleated filter
In general, we use 316L stainless steelwire mesh for the woven wire mesh layers, and 304 stainless steel for the perforated plate. Other special alloys can be incorporated as well.

The woven wire mesh layers can be customized to meet a filtration rating, and the thickness of the perforated plate as well as the type of perforations can be customized as well.

Our standard size is 2'x4', or 4'x4', but different size sheets and discs can be made as well. This type of sintered mesh laminate is often used in tube form. These sintered filter tubes can be custom made with a variety of diameters and lengths.


Filtering
Level
Filtration
Precision
um
Maximum
Hole
Diameter um
Permeability
M3/h.㎡.kpa
Thickness
mm
Compression
Strength
Mpa/cm2

S9

0.2

2.5

1.5

3

3.0

S8

0.5

4

3

3

3.0

S7

1.5

6

5

3

3.0

S6

2.5

10

15

3

3.0

S5

5

15

40

3

3.0

8

20

80

3

3.0

S4

10

30

120

3

3.0

S3

28

60

250

3

3.0

35

80

500

3

3.0

S2

40

100

800

3

3.0

S1

65

160

1000

3

3.0