The Bronze powder sintered Filter cartridge adopts sintered stainless steel fiber felt, has high-pressure, high temperature and chemical corrosion resistance. It also has good air permeability, high dirt holding capacity and long-life service time can repeat use by clean, is the ideal filter element for petroleum, chemical and synthetic fiber industries.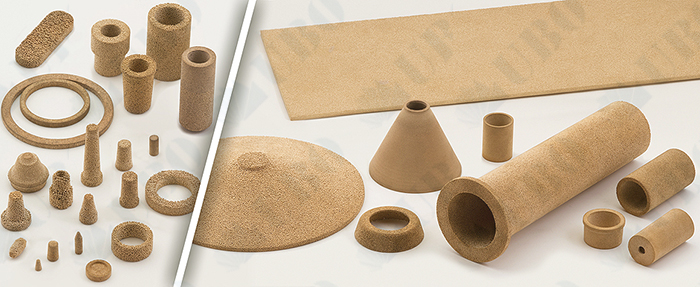 Applications for Bronze powder sintered Filter cartridge:
Mainly used in petroleum, chemical, automotive, aircraft, marine industrial filtration gases, liquids, fuel oil, also used extensively for pneumatic, hydraulic circuit filter elements.
Product Features for Bronze powder sintered Filter cartridge:
1 high precision filter: pore stability, will not change the pore pressure changes with the phenomenon. Can effectively remove suspended solids and particulates, excellent filtration, purification effect.
2 permeability, pressure loss is small. Filter composed entirely of spherical powder, high porosity, pore size uniformity and smooth, the initial resistance is small, easy cleaning, regeneration ability, long service life.
3 high mechanical strength, good rigidity, good plasticity, anti-oxidation, corrosion protection without additional framework support, installation and use, easy maintenance, assembly, and can be welding, bonding and mechanical processing.
4 uniform porosity, especially for fluid distribution, homogenization treatment uniformity requirements of the occasion.
5 forming a copper powder products, without cutting, effective utilization of raw materials is high, maximum material savings.
6 Filtration: 5 ~ 50μm.