The wedge wire screen resin traps element included with the main housing as depicted below eliminates the migration and loss of expensive resin/media, whilst at the same time protecting your pumping equipment. A combination of different Profile Wire sizes and slot openings can be used depending on your circumstances. Completion Products will also determine the effective screen open area in order to improve upon efficiency and minimise the pressure drop.
Used of wedge wire screen resin traps
Resin Trap Screen Predominantly used in water treatment processes namely in 'Ion Exchange' and other numerous media filter systems, Completion Products offers a Resin Trap Screen. This screen system is primarily used as a safety device and is positioned immediately after the outlet nozzle of the vessel/reactor.
Advantages of wedge wire screen resin traps
Very precise slots for perfect particle retention combined with minimum
Obstruction of the process flow,flexibility in design,strong construction,Large open area,plug-resistant slot design.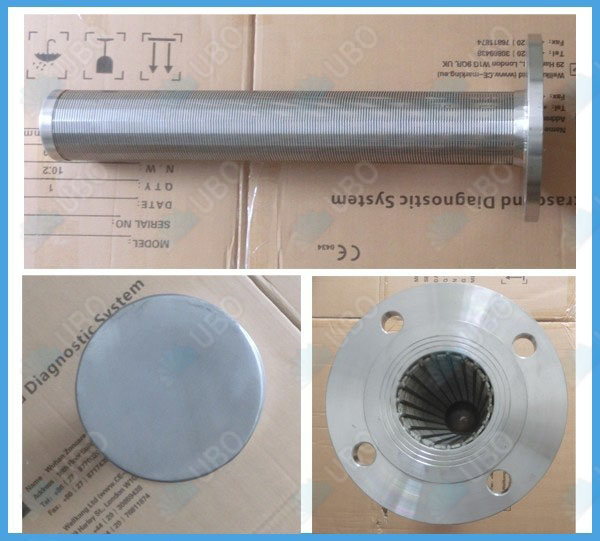 Ubo is specialized in producing and distributing wedge wire screen,lauter tun screens,sieve bend screen,sieve plate screen,water strainer&nozzle,screen nozzles,centrifuge screens and baskets,header-lateral.
Welcome to contact us for more information and cooperation.0086-0311-83289301.

Pressure loss:0.01-0.03Mpa
Working power supply:380v,AC 50HZ
Filtration precision:less than 6mm
Length:R1 R2 R3,up to 6m
Wire type:wedge wire
Filter rating:60% up
Slot size:0.02-1min
Width:1000mm
Thickness:5-10mm
Diameter:25-1500mm
Surface treatment:polishing,chroming