The v wire Filter nozzles element is composed of V-profile wire stainless steel which is spirally wrapped in certain equal slot.
To maintain the slot size around inside and add extra strength are mounted. It has each cover for both ends of nozzle.
Each wire and rod are made by spot welding. and fitting pipe is adjusted according to the thickness of set bottom plate.
Nozzle is completed by welding fitting pipe to a cover of down end after setting screw according to the type of nut.
Feature of v wire Filter nozzles element
No Deformation and damage by pressure of filtration layer.
Improvement of Filtering efficieny by maximizing Filtrating area.
Fomation of equal and find slot.
Maintenance of semi-permanent life.
Applicatuon of v wire Filter nozzles element
Nozzles can be used for liquid/solid or gas/solid separation, or media retention (sand, catalyst, resin, ....).The nozzles are mounted on a support plate. The dimensions and the distribution of the nozzles on the support plate can be altered to obtain an optimized flow distribution.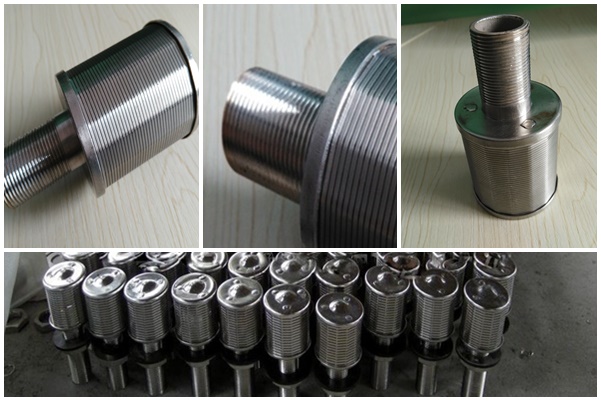 UBO is specialized in producing and distributing filter, filter element,polymeric filter,filter strainer,wedge wire screen etc. Welcome to contact us for more information and cooperation.0086-0311-83289301