Stainless steel wedge wire water well screen is composed of rod strips and V shaped wires through manufacturing on specialized welding machine.The rib strips and V shaped wires will be welded by resistance welding, has enough welding strength, equally slot gap, high corrosion resistance, large filter area, good permeability, simple structure.
A "V" shaped profile wire which avoids clogging and ensures an uninterrupted flow.A uniform and efficient well development due to the continuous slot opening.
Features of stainless steel wedge wire water well screen
1.Continuous opening has greatly increased the water flow area, so offers a better contact with the aquifer.
2. V-type profile of the structure to avoid clogging and ensure smooth flow.
3. Continuous long-term effective use of the pore.
4. Trapezoidal filter pipe offers a solid structure, high porosity, and accurate poring.
5. Trapezoidal wire filter pipe is easy for washing, long service life, safe, reliable, comprehensive and low cost.
Advantages of stainless steel wedge wire water well screen
1.Screens with high open area are more suitable for the construction of high-quality water wells and gas wells.
2.Low cost operation.
3.Reduce the abrasion of the pump.
4. Extend the life span of wells, low-carbon, Galvanized or stainless steel construction.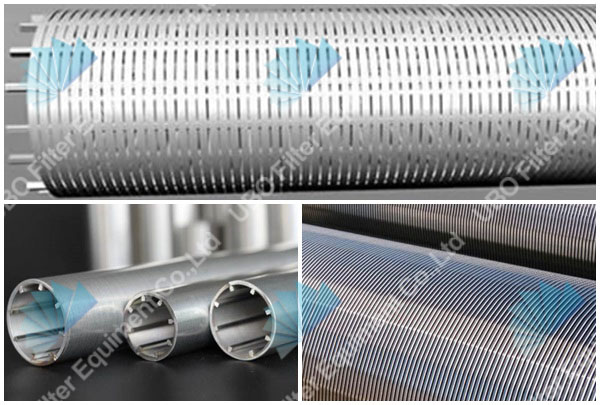 Ubo is specialized in producing and distributing wedge wire screen,lauter tun screens,sieve bend screen,sieve plate screen,water strainer&nozzle,screen nozzles,centrifuge screens and baskets,header-lateral.
Welcome to contact us for more information and cooperation.0086-0311-83289301.
material : stainless steel (304,316,316L ,904 ,904L)
slot : 0.4mm,0.6mm ,0.7 mm(minimum 0.02mm)
length : 5m (upto 6m )
open area : 21% (maximum 60%)
| | | | | | | |
| --- | --- | --- | --- | --- | --- | --- |
| Basepipe OD (in) | Perforations per foot | Basepipe Hole Size (in) | Open Area of Basepipe Holes (in2/ft) | Wrap Wire Size Keystone (in) | Rib Wire Size Round (in) | Maximum OD (in) |
| 1.05 | 54 | 0.312 | 4.14 | 0.09*0.09 | 0.125 | 1.489 |
| 1.315 | 66 | 0.312 | 5.06 | 0.09*0.09 | 0.125 | 1.726 |
| 1.66 | 78 | 0.312 | 5.98 | 0.09*0.09 | 0.125 | 2.126 |
| 1.90 | 42 | 0.375 | 4.63 | 0.09*0.09 | 0.125 | 2.387 |
| 2.063 | 42 | 0.375 | 4.63 | 0.09*0.09 | 0.125 | 2.55 |
| 2.375 | 54 | 0.375 | 5.96 | 0.09*0.09 | 0.125 | 2.86 |
| 2.875 | 66 | 0.375 | 7.28 | 0.09*0.09 | 0.125 | 3.362 |
| 3.25 | 78 | 0.375 | 8.61 | 0.09*0.09 | 0.125 | 3.737 |
| 3.50 | 78 | 0.375 | 8.61 | 0.09*0.09 | 0.125 | 3.987 |
| 4.00 | 90 | 0.375 | 9.94 | 0.09*0.09 | 0.125 | 4.487 |
| 4.50 | 102 | 0.375 | 11.26 | 0.09*0.09 | 0.125 | 5.001 |
| 5.00 | 114 | 0.375 | 12.59 | 0.09*0.09 | 0.125 | 5.506 |