Wedge wire Auger also known as side hill screens, parabolic screens,rundown screens, gravityscreens and DSM screens, can be custom designed to separate solids from liquids in various applications including food processing, pulp and paper, waste water cleanup, surface water intakes,corn wet milling, coal preparation, and gold recovery.Sieve Bends are cross-flow screens. The profile wires are slightly tilted so that the leading edge is position higher which greatly increases the dewatering capacity.A sieve bend consists of a concave curved profile wire screen mounted in a frame with the screen openings perpendicular to the flow. A curved screen has greater capacity than a flat wedge screen due to forces exerted as material flows against the curved surface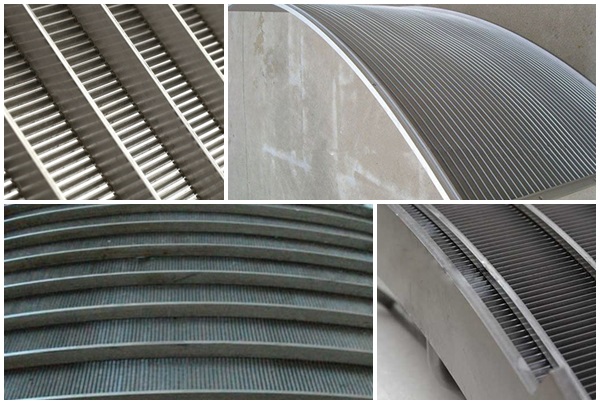 Usages for Wedge wire Auger:
1.) Widely used in vairous kinds of medium filtering
2.) As the fitting using in the water-treating equipment;the environment protection; the sea water transforms into the industrial water and life use water desalination treatment; running water treatment; softening treatment;
3.) The petroleum industry: the petroleum product terminal filters and the chemical acid; the alkali liquid filters, the ethyl alcohol;
4.) The organic solution recycling filter
Characteristic for Wedge wire Auger:
1.) Wedge wire screen style isn't easy to be locked
2.) Due to the different pressure between inside from outside,it could be very easily to clean the plugging material.
3.) We are eager for long-terms cooperative parters ,our factory promise the best quality to have a high filtering accuracy, high strengh and durability
4.) We have the most advanced equipments and the most professional workers , so totally could be as per customer's drawing to produce new styles .
Features for Wedge wire Auger:
Low Headroom - only 1.1 metres (44") tall for the 900 mm arc length unit.Energy Efficient - operates with no moving parts and with no energy input.
Space Efficient - treats up to 122 litres per second per square metre of floor space.
Quiet Operation - no moving parts means no mechanical or electrical vibrations.Accurate Sizing - can be used for sizing solid particles down to 0.2 mm (0.008").
Low Maintenance - the profile wire screen resists clogging by near-size particles, and the all-stainless steel construction ensures a long, corrosion-free installation.
Easy Screen Replacement - a typical screen can be replaced in 10 minutes with no tools.