Wedge Wire water filter nozzles are manufactured from stainless steel material or other alloy material. The wedge wire nozzle features non-clogging, high filtering efficiency and economical. It has a wide range of applications in water treatment applications. The different wedge wire sizes and slot sizes can suit different class filtration. Continuous slot design make it high efficiency and long service life.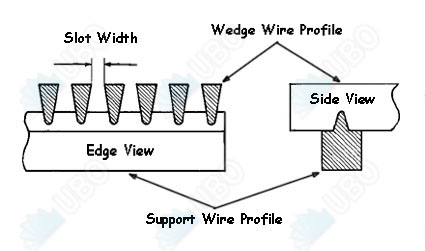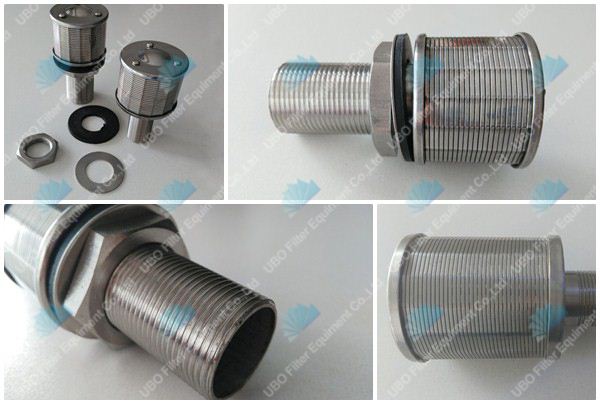 According to different applications, the wedge wire nozzle can be divided into two main types, you can choose them according to your requirements.
Long typre wedge wire nozzle.
Double head wedge wire nozzle.
Single flow rating wedge wire screen

Wedge Wire water filter nozzle used for Ion exchanger are an ideal solution for applications with heavy amounts of media whose weight could compromise the integrity of unsupported screens. That's because nozzles are affixed to durable steel plates that can withstand great loads without damage. Using the nozzle method gives you the reliability you want with the flow rate you require.
UBO manufactures Wedge Wire water filter nozzle using a variety of materials to ensure long life and reliable performance. The non-plugging, continuous slot design makes UBO nozzles ideal for applications that involve the retention of sand, activated carbon, ion exchange resin and more. They withhold the media while allowing the treated liquid to pass through.
If needed, YOUBIOU (UBO) can also custom manufacture nozzles to your exact specifications, including assembled nozzle.Advantages of AISI 304 water well screen Wedge Wire type filter nozzle strainer
Feature of Wedge Wire water filter nozzle used for Ion exchanger
Excellent roundness
Very good slot width precision
High mechanical load capacity
No form closure connection that would allow vibration of the profiled bars V-shaped wire around the twin tube water cap for metallurgical industry
Automated welding process for high-precision manufacturing
Perfectly adjusted screen basket profiles
Available for all screens
Surface finishing as require