Wedge Wire Screening Systems is made by wrapping and welding stainless steel V-shaped profile wire cylindrically around support rods under automatic wire screen machine. Each profile wire and support rod is welded by resistance welding.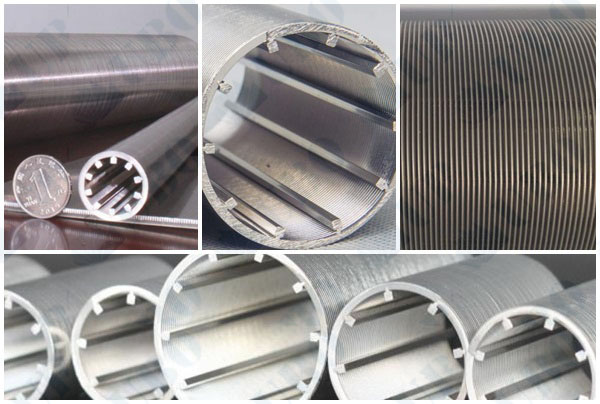 widely used in mineral processing,coal processing,food processing,water treatment,petrochemical industry,architecture industry, as well as many other applications involving liquid & solids separation.
1) Continuous opening has greatly increased the water flow area, so offers a better contact with the aquifer.
2) V-type profile of the structure to avoid clogging and ensure smooth flow.
3) Continuous long-term effective use of the pore.
4) Trapezoidal filter pipe offers a solid structure, high porosity, and accurate poring.
5) Trapezoidal wire filter pipe is easy for washing, long service life, safe, reliable, comprehensive and low cost.
1) Screens with high open area are more suitable for the construction of high-quality water wells and gas wells.
2) Low cost operation.
3) Reduce the abrasion of the pump.
4) Extend the life span of wells, low-carbon, Galvanized or stainless steel construction
1) We use wedge-shaped profile wire in order to make the slot v-shaped. It can stop the impurities very well.
2) The wedge wire was welded on the support wire well-proportioned and have perfect roundness. Ensure the screen have bigger filter area and non obstructive, avoid the high concentration of impurities.
3) After work for a period of time, the filter can be back flush.It can use for many times.