Wedge wire water distributor systems may have multiple tiers of wedge wire screen laterals.
Wedge wire water distributors are available for larger diameter filters. Wedge wire screen laterals make excellent collectors. A perforated pipe distributor can be added to improve back--wash distribution and increase strength.

Wedge Wire screen cylinders can be designed with slot openings and wires running radially on the outside for flow from outside to inside. Or they can be positioned axially on the inside of the cylinder for flow from inside to outside.

Economical wedge wire screen nozzles can be used as collectors in false bottom (tube sheet) vessel installations.

Features of Wedge Wire Water Distributors
UBO technology can also make several kinds of lateral collector / center distribution deainage device: Crossing type,fish bone lateral type and straight type.the characterics of our center distibution drainage device:bigger circulation area,Water distribution uniformity.High mechanical strength.Thermal enduance.Resistance to pressure,Anti-aging,Resistance to corrosion.The size for slot can be decided by the size of resin.
Application of Wedge Wire Water

Distributors
application in deep well pump to dive the water pump, in the water-treating equipment, the environmental protection, the sea water transforms into the industrial water and life use water desalination treatment, running water treatment, water softening treatment; the petroleum industry, the petroleum product terminal filters; and the chemical acid, the alkali liquid filters, the ethyl alcohol and the organic solution recycling filters.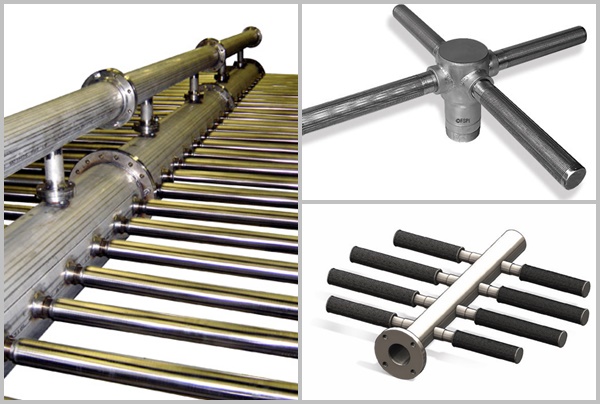 UBO is specialized in producing and distributing filter, filter element,polymeric filter,filter strainer,wedge wire screen etc.