YUBO manufacturer of rotary drum screen in china.Rotary drum screen cylinders are manufactured in various diameters from 1/2" pipe size to 36" diameter. Screen cylinders can be fabricated into much larger sizes. Each intersection of wedge wire and support rod is welded for strength and durability. Variou wedge wire and support rod combinations can be used to produce the best screen design.
Wedge Wire screen cylinders can be designed with slot openings and wires running radially on the outside surface of the screen cylinder or they can be positioned axially on the inside of the cylinder.Rotary Screens typically use wedgewire for the screening media.The externally fed unit has a spiral wound wedgewire screen drum 36" OD x 120" long.Please tell us your demand and then we design ,manufacture for you.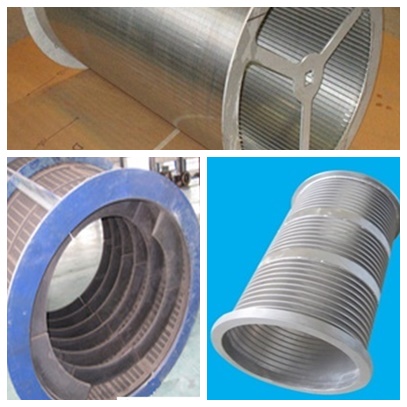 Application of Rotary Drum Screen Filter
1) Quarry industry: suitable for screening and classifying gravel, clay, mountain meal, sand, etc.
2) Coal Industry: suitable for screening and classifying lump coal, coal dust, coal washing, etc.
3) Chemical industry: fertilizer industry etc.
4) Mineral-selecting Industry: suitable for grading and classifying lump, powder substance, etc.
5) Metallurgy, construction, building materials, abrasives, and other industries.


Advantages of Rotary Drum Screen Filter
1) Trommel drum screen mainly consists of motor, reducer, drum units, racks, etc.
2) Installation of small angle, it is not easy to block
3) Occupy a small space
4) Low noise and little dust pollution
5) High screening efficiency
Raw material:SS321,SS304,SS316,SS316L,TaGr2,Low carbon,Hastelloy-C alloy Stainless steel wedge wire screen.
Slot Size: 0.05,0.025,0.03,0.04,0.05...0.2 0.3 0.5 1.0.....60mm,
Wire diameter: 1.5x2mm, 2x3mm, 2x23.5, 3x7mm, 4x6mm.
Support rod: 2x3mm, 3x3.8mm, 3x5mm......5x6mm,
Length: 0.05m-6m,
OD: 25mm to 800mm,
Surface treatment: polishing , chroming.
Model

Mixed Juice Capacity (t/hr)

Drum Diameter (mm)

Drum Length (mm)

Drive (KW)

Feed (inlet) Size

Discharge (outlet) Size

Approx. Mass (kg)

WT610

40

600

1000

1.5

DN100

DN150

535

WT615

73

600

1500

1.5

DN100

DN150

650

WT1015

99

1000

1500

2.5

DN150

DN200

1050

WT1018

132

1000

1800

2.5

DN150

DN200

1170

WT1518

165

1500

1800

4.0

DN200

DN250

1775

WT1521

214

1500

2100

4.0

DN250

DN300

1940

WT1524

264

1500

1400

5.5

DN250

DN300

2130

WT1824

277

1800

1400

5.5

DN300

DN350

3670

WT1830

396

1800

3000

7.5

DN300

DN350

3040

WT1836

515

1800

3600

7.5

DN350

DN400

3425

WT2136

554

2100

3600

11.0

DN400

DN450

4125

WT2142

693

2100

4200

15.0

DN400

DN450

4575

WT2148

831

2100

4800

15.0

DN450

DN500