The Pulp and paper screen is made up of rods and warp. The rod can be round wire, triangular wire or trapezoid wire.

The warp is triangular wire (V-shaped wire). The welded ring sand control wedge wire screen pipe have a robust structure and large open area, as well as accurate slot dimension. At the same time, wedge wire screens pipe have many advantages such as heat-resisting, anti-corrosive, good machine capability,long service life, safety and reliability and so on. It can be used in many kinds of medium filtering.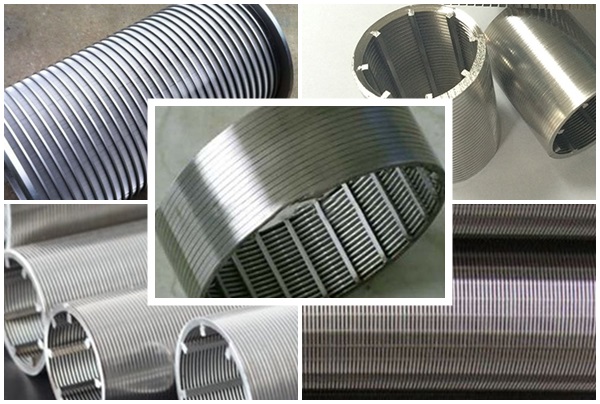 Features of Pulp and paper screen
1) adoption of the wedged wires made a V profile slot. This design ensures the fluent of water filteration and more effective.
2) wedged wires are spirally wound around a cage of longitudinal support rods in succession which formed high-density uniformed slots and avoid clogging. So that the high production efficiency and long life service of the well are gaurenteed.
3) arrangement of the longitudinal support rods and the successive slots provide higher compressive property
Advantages of Pulp and paper screen
-- High open area
-- Quick filtration
-- Economical solution, also for refurbishing of existing lauter tuns
-- Accurate filter rating
-- Longer service life
-- Low maintenance costs
-- Possible to build-in in existing equipment(custom made)
Application of Pulp and paper screen
The welded ring sand control wedge wire screen pipes are mainly used for the water-treatment , water well drilling ,oil well drilling ,mineral processing, coal-cleaning plant ,sewage treatment and other industries,water,oil or gas filter and other filtration equipment.

Materials :SS 304,16L, Stainless steel and carbon stee
1) Rotary Screen Filter factory materials is Stainless Steel and Low Carbon Galvanized.
2) It is another type of wedge wire screen.
3) From inside to outside
Slot size 0.05, 0.1, 0.25,0.50,0.75,1.00,1.50,2.00,3.00(mm)
minmum slot 20 mm
Wire Size

Width(mm): 1.50 1.80 2.30 3.00 3.30 3.70
Height(mm): 2.20 2.50 2.70 3.60 4.30 4.70 5.60 6.30

Support Rods

Width(mm): 2.30 3.00 3.30 3.70
Height(mm): 2.70 3.60 4.70 5.60 6.30

Note: other wires and rods available upon request

Slot size

0.10, 0.15, 0.20, 0.25, 0.30…… 6.00mm also achieved upon request.

Material:

Low carton, low carton galvanized steel (LCG), stainless steel (304,316 etc.)

Length

Lengths up to 6 meters.

Diameter

ranging from 25mm to 800mm.

End connection

Plain beveled ends for butt welding or threaded