Stainless steel hydraulic filter made by single layer or multi-layer metal mesh and filter material, layer number and constitute a wire mesh according to different conditions of use and purpose.


About Function for stainless steel mesh Cylindrical filter element:
Installation of in the end pipeline of the oil cooler of pump to clearly remove particles of metal powder in the working oil caused by component wearing when the machine is working and colloidal particles in the oil by chemical action of medium in the systems to prevent premature wear of the bearing screw, extending using life.
Application for stainless steel mesh Cylindrical filter element:
Folklift truck;Aerial work platfrom;Building and construction;The paper pulp and paper mill;Truck-hydraulic power system;Mechanical engineering machine;Agriculture-agricultural machinery;Pharmaceutical - power control system;Chemical industry - chemical treatment;Injection molding machine - transmission system;Petrochemical industry- hydrocarbon processing;Generate electricity - wind power hydraulic system;Hydraulic support-hydraulic lifting system, mine mobile devices;Steel and heavy metal smelting - blast furnace ironmaking hydraulic system
Features for stainless steel mesh Cylindrical filter element:
1). Small resistance, low using differential pressure;
2). After folding shape, big filter area, carrying large amount;
3). High temperature resistance, corrosion resistance, suitable for high viscous liquid filtration;
4). Regeneration performance is good, can be repeated use;
Advantadge for stainless steel mesh Cylindrical filter element:
Sintered wire cloth is made by vacuum sintering, offers high strength without any support layer;
No possibility of media migration occurring in using;
A wide operating temperature range;
Strongly corrosion resistant;
E asy to clean and offer long service life.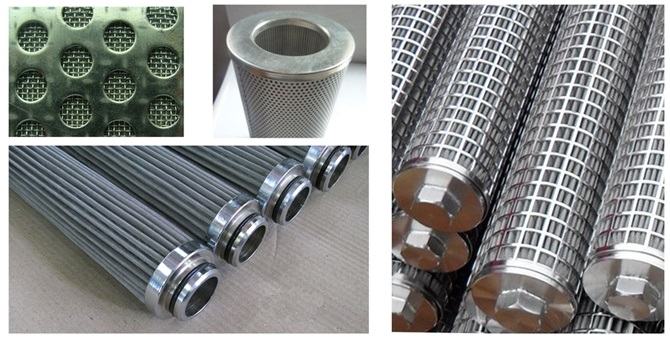 If you can envision it,We can supply it. TEL:0086-0311- 83289301 E-mail:sales@ubooem.com
· Ubo will do everything possible to provide exact and full product information based on metal mesh for your information.
· In order to give customer a clear image of the product,Ubo has taken some pictures, customer can dowmload for reference but using our picture for business is forbidden.
· Due to technique and other factors,product image might be slight different to the products itself,in case everything will follow the products.
· Ubo appreciate any suggestion on our product information or picture or anything else.