It is widely applied in the filtration of liquid and gas and it is applied in many industries, such as petrifaction, polyester, pharmaceutical, food, beverage and water treatment.
Moreover, the minimum diameter we can process can be up to 10mm and the filter rating can be up to 1micron.
In addition, as to the connection type and specification, we can produce it at customer's request.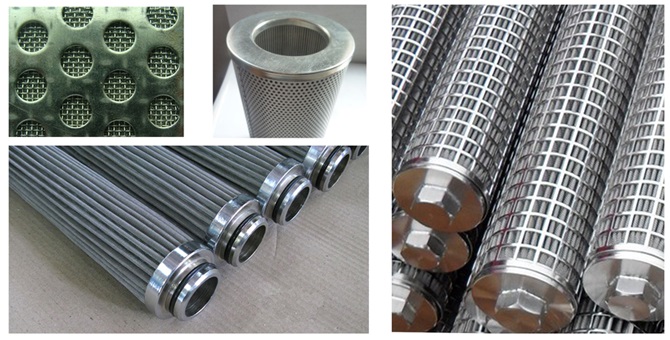 Features
Weldability, Easily fabricated, Durability, Heat resistance, High pressure-resistance, Washability, Filtration and Separation, Uniform aperture size
Applications
Oil and Gas / Petrochemicals / Chemicals / Polymers / Synthetic fiber and film / Food and beverages / Milk and dairy products / Pharmaceuticals / Aerospace and environmental protection
Line of Products and services
Sintered wire mesh panels of SUS316L (SUS316),
Sintered wire mesh panels of such alloys as Hastelloy, Monel, Inconel , Alloy 20, etc.,
Sintered panels with combination of SUS meshes and SUS plates,
Various sizes and shapes of metal filters based on sintered wire meshes,
Heat treatment services such as annealing, brazing, baking, etc.
Natural gas filters (LNG), Ethylene gas filters, Liquid filters, Oil filters,
Ozone decomposition filter, Degas filters, Polymer filters, Steam filters,
In-line strainers, Temporary strainers, Basket strainers, Conical strainers,
Nutsche filters, Centrifugal separator, Column for chromatography,
Pleated candle filters, Cartridge filters, Disk filters, Candle filters, Air filters,
Oil filtration for coolant, Pre-filters, Breaker plate, Flame arrestor, Bubbling,
Exhaust gas filters (DOC, DPF) for diesel and gasoline engine etc...
Ubo Filter Co.,Ltd could supply stainless steel filter elements,filter element, filter disc, sintered filter,filter strainer,polymeric filter,basket filter, wire mesh filter ,pleated filter
Besides any custom designs, there are several main standard types of sintered wire mesh laminates:
5-Layer Sintered Wire Mesh
This is the most common type of sintered wire mesh laminate. It is made with one filter layer sintered to several standard protective and support layers.
Sintered Wire Mesh with Perforated Metal
This type of sintered mesh laminate consists of several layers of wire mesh sintered to a perforated plate.
Sintered Square Woven Mesh
This type of sintered mesh laminate consists of several layers of square woven wire mesh sintered together.
Sintered Dutch Woven Mesh
This type of sintered mesh laminate consists of 2 to 3 layers of dutch woven wire mesh sintered together.
To get your standard or custom project started, contact us today!