Horizontal Pressure Leaf Filters are specially used when the filter cake is gummy and difficult to clean automatically.
In this design filter leaves are easily accessible for manual cleaning. The connections are mounted on the fixed filter cover so that the same need not be opened when the Horizontal shell is retracted.
The filter leaves set is mounted on the fixed cover depending on the required application the cover closing device can be offered. The filtration surface area can be offered from 5m2 to 70m2 for both dry and wet cake removal. The cover closing design can be offered with eyebolt and nut arrangement or with the special quick-acting wedge lock automatic device.
Material of construction : Stainless steel, Carbon steel with rubber, PP, PVDF lining, Monel, inconel, etc. sealing are available in BUNA-N, Viton, EPDM, Nitrile, Silicon etc.
Advantage of Horizontal Pressure Leaf Filters
1, Fully hermetic filter , no leakage, no pollution.
2, Filtering gauze flakes can be pulled out automatically, and easy to be inspected and cleaned.
3, As the leaves filtering on both sides, large filtration area and solids holding capacity can be obtained.
4, Automatically residue discharging by which labor can be largely reduced.
5, Controlled by hydraulic thus automation is to be.
6, A large filtration area and large solids holding capacity can be obtained .
Working of Horizontal Pressure Leaf Filters
The liquid slurry is pumped into the filter vessel, clear filtration starts as the sufficient cake is build over the leaf surfaces and filtered liquid comes out through the manifold.
The solid keeps getting accumulated on the filter leaves and thick cake is formed. Once the pressure reaches the required designed level, the the cake is dried with hot air / steam and relived from the leaves by by pneumatically operated vibrator or by any other competent design method as required then for special application.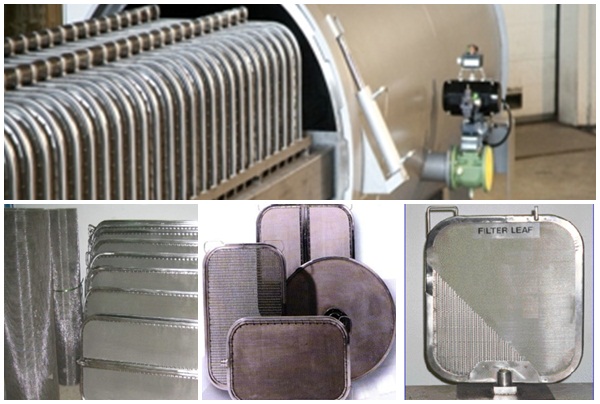 Ubo Filter Co.,Ltd could supply stainless steel filter elements,filter element, filter disc, sintered filter,filter strainer,polymeric filter,basket filter, wire mesh filter ,pleated filter
Closed system operation, Even cake deposition and clean operation.
Complete drainage of filtrate/oil, no residual liquid remains, cake stays dry and no filtrate/oil loss.
Plates are self supporting, no outer supports needed which would interfere with cake discharge and automatic cake discharge.
Reliable, consistence filtration performance. Puric S.S. polished leaves manufactured with strict on line quality control assures you of 100% performance.
Engineered for Optimum process filtration performance. Puric leaves with its "graded mesh opening structure is designed for efficient removal of particles.
Rigid Leaves where individual rivets are mechanically tested.
Distance between the Manifold and the bottom of the cone is volumetrically designed more for higher cake holding capacity.
Pneumatic Vibrator Assembly due to its unique design provides quieter and smooth operations, incurring minimum maintenance cost.
Pneumatically Operated Butterfly Discharge Valve as per BS5111, AWWA-C-504, IS 13095 Standards.
Replacement Puric filter leaves for all makes International or Local are available.
Filtration Rate (μm)

BPP

(Pa)

Air Permeability

(l/dm2/min)

Thickness

(mm)

Weight

(g/m2)

Porosity

(%)

Dirt Holding Capacity

(mg/cm2)

3

12300

9

0.35

975

65

6.40

5

7600

34

0.34

600

78

5.47

7

5040

57

0.27

600

72

6.47

10

3700

100

0.32

600

77

7.56

15

2470

175

0.37

600

80

7.92

20

1850

255

0.49

750

81

12.44

25

1480

320

0.61

1050

79

19.38