1.Stainless steel sintered wire mesh material
2.High temperature filtering
3.High pressure filtering
4.Rate:1-300um
Sintered Wire cloth filter is made of Sintered 5-layer or multi-layer stainless steel wire mesh laminates, it take the advantages of good permeability, high holding dirty capacity, large filter area, long service life, high temperature resistance and corrosion resistance, and cleanable, can be used for many times, it is widely applied in the filtration system of petroleum and chemical industry.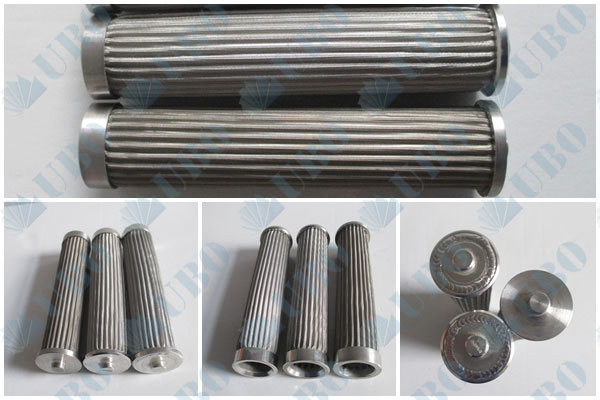 Sintered Wire cloth filter Main Connection:
1.Standard(e.g.222, 220, 226)
2.Fast interface
3.Thread
4.Flange
5.Tie rod
6.Special customization
Product Details:
1.Sintered Wire cloth filter,Material: SUS 304,316L
2. Sintered Wire cloth filter Rate:1-300um
3.Sintered Wire cloth filter Working temperature:-200-600°C
Sintered Wire cloth filter Laminate media
Sintered Wire cloth filter media is composed of 5-layer or multi-layer stainless steel wire mesh, which is special canlendering and sintering in vacuum oven, to create a new filter material with high strength and rigidity. Its interlaced mesh forms a uniform and ideal filtration structure. As a new filter material, it not only overcomes the disadvantages of ordinary metal mesh, such as lower strength, poor rigidity, unstable hole shapes, but has excellent performances such as high precision and strength,efficient flow restriction, mechanical and resistance to abrasion,heat by reasonably arranging its porosity, permeability and strength. Therefore, its total performance has obviously advantages than sintered powder, ceramic, fiber cloth, other filter material.
Our sintered laminate has been widely used in many industries such as aerospace, aviation, petroleum, chemical, metallurgy, purification, gas-solid, liquid-solid, and gas-liquid separation cooling, gas distribution, fluidization bed, gas sampling collection, shock reducing, sound attenuation, inflaming retarding.
Main applications:
1.Distribution and cooling material in high temperature;
2.Material used for gas distribution and fluidization bed;
3.Material requiring high precision, stable performance in high temperature;
4.High pressure backwashed oil filter;