A rotary drum filter, also known as a rotary drum screen or rotary sifter, is an essential component of municipal and industrial water treatment processes. Typically, it serves as the second pre-treatment step in wastewater treatment plants, positioned upstream of the main treatment system, where it collects mechanically fine and coarse debris, such as trash rack debris (RAG), thick sands, and grease. By doing so, it prevents these waste materials from mixing with the sludge and causing interference with downstream processes.
Drum screens are particularly well-suited for wastewater pretreatment in small and medium-sized sewage treatment plants, especially when wastewater is pumped. Their compact design, fully automatic operation, and minimal maintenance requirements make them a cost-effective and reliable choice. They can be easily installed or retrofitted to existing setups, offering versatility for various applications.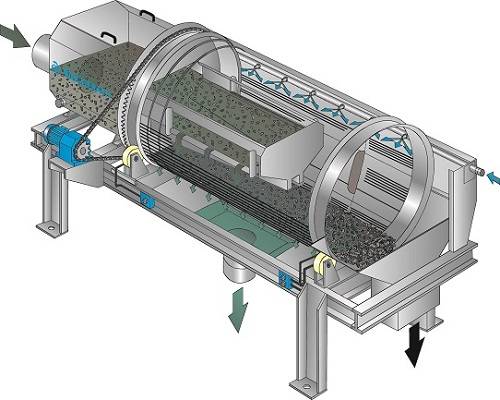 The rotary drum screen offers several advantages for municipal sewage treatment plants, industrial wastewater treatment, and process water screening. Its unique system allows for a combination of screening, washing, transport, compaction, and dewatering within a single unit.
Screening elements can be either wedge wire screens or perforated drums, and the throughput can be adjusted to specific site requirements based on the aperture size and screen diameter. Moreover, the drum screen is entirely made of stainless steel and can be installed directly in the channel or a separate tank.
The primary function of the rotary drum screen is to provide fine screening based on the selected mesh size.
There are two common types of rotary drum screens: with triangular wire and with perforated metal sheet.
Triangular Wire Drum Screens: These screens offer three key benefits, including a high transition coefficient, a shape that allows fine particles to pass without blocking the slots, and a lack of rough sides typically found in flat plates due to their manufacturing process.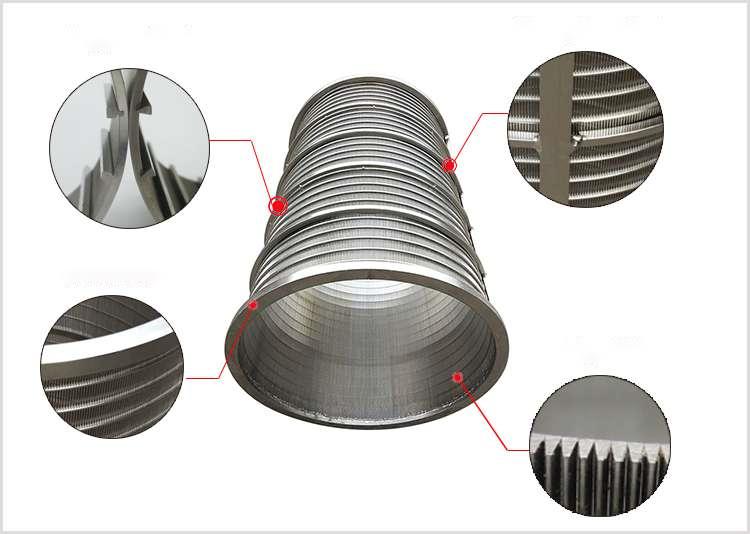 Product Features:
Enhanced water distribution uniformity for increased treating capacity.

Efficient chain transmission drive mechanism.

Equipped with a reverse flushing device to prevent screen clogging.
Applications:
This advanced solid-liquid separation device is used in sewage pretreatment for municipal sewage treatment plants, residential quarters, sewage pumping stations, waterworks, power plants, and a wide range of industries such as textile, printing and dyeing, food, fishery, paper, wine, butchery, and more. Drum screens are employed to remove small debris from large water flows, ensuring downstream processes remain unobstructed and clean. They find application in thermal and nuclear power plants, LNG terminals, desalination and fertilizer plants, drinking water and irrigation facilities, especially for high flow rates.

In addition, the rotary drum screen can also be used for sludge treatment, specifically for thickening. It can achieve solids concentrations up to 9% and solids recoveries of 90-99%, depending on the source of the sludge and the conditioning method used.
The rotary drum screen is highly sought after for mechanical treatment of both industrial and domestic wastewater due to its efficiency. It excels at removing complex fibrous impurities like wool and hair from drains. Its closed design, high capacity, low energy consumption, and minimal flushing water usage make it a valuable solution for modern, energy-efficient wastewater treatment plants.
Rest assured that we are committed to providing you with the most optimal equipment to meet your specific needs, offering high-quality solutions for wastewater treatment and solid-liquid separation. Email us: sales@ubooem.com