UBO'S wedge wire support screen grid or filter screen can be used in a variety of applications ranging from classifying to recovering usable products that would end up in sewer line to capturing solids from effluents.
A continuous slot screen sieve bend gives you a great amount of open area, is significantly more affordable and requires less maintenance than vibrating or rotary drum options.
It's made of support rod and wire , wire shape is normally triangle wire ,
Arrangement & Installation of wedge wire support screen grid
A support grid could be made out of parallel or pie shaped segments, each segment just resting on the beams or bolted to or welded to the next one. The joining bars could be flush or project above the screening surface. Support structure can be included for additional strength.
The support grids can be attached to the supporting structure by bolts fixed to the grid or part of the vessel itself.
Application of wedge wire support screen grid
Mineral processing;
Hatchery screens ;
Food processing ;
Surface water intake screens ;
Fish diversion screen panels ;
Vibrating or static screen decking ;
Flooring for malt kiln, germination, and grain drying.
Benefits: A non plugging surface; Self supporting structure; Accurate separation; High open area; Durable.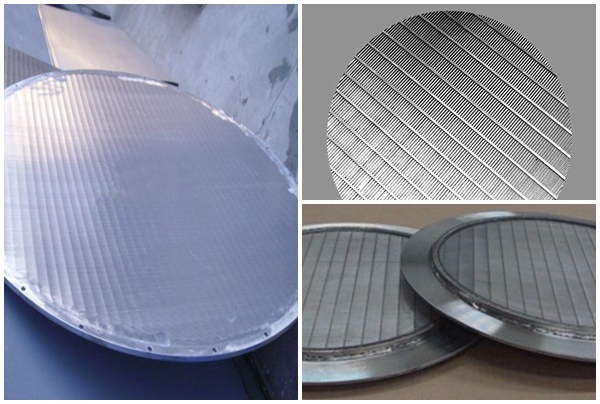 Ubo is specialized in producing and distributing wedge wire screen,lauter tun screens,sieve bend screen,sieve plate screen,water strainer&nozzle,screen nozzles,centrifuge screens and baskets,header-lateral.
Welcome to contact us for more information and cooperation.0086-0311-83289301.
The specifications of our wedge wire support screen grid or filter screen :
wedge wire : 1.5*2mm 2*3mm , also could be as per your requirement
support wire: 2*3mm 3*5mm 4*6mm, also could be as per your requirement
slot size: min 0.02mm
supporting wire space , length , width as per your requirement .
material: ASTM 201 , ASTM202 , ASTM 302 , ASTM 304 , ASTM 304L, ASTM 316, ASTM 316L,
ASTM 316HC , ASTM 321 , ASTM 340 .