Wedge wire Mash are placed in a housing, inline with the flow to capture expensive media from traveling downstream. We can design the traps to capture media particles of any size. With the continuous open slot, the traps provide sufficient open area to let process flow move smoothly thus minimizing pressure loss through the system.
Your resin trap can be designed to suit either new or existing strainer bodies.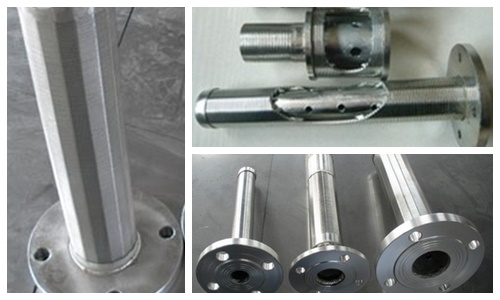 Application of Wedge wire Mash
Resin Trap Screen Predominantly used in water treatment processes namely in 'Ion Exchange' and other numerous media filter systems, Completion Products offers a Resin Trap Screen. This screen system is primarily used as a safety device and is positioned immediately after the outlet nozzle of the vessel/reactor.
Principle of Wedge wire Mash
A Resin Trap / Strainer normally serves to retain particles in a process flow. The quantity of particles is normally very low,so that cleaning can be done during flow interruption.
Advantages of Wedge wire Mash
Very precise slots for perfect particle retention combined with minimum
Obstruction of the process flow,flexibility in design,strong construction,Large open area,plug-resistant slot design.
Wedge wire Mash
Example of Lauter Tun screen description
48 3/4" OD made in 3 sections
93V wedge wire on 1/8" x 7/8" support rods at 2" centers
.030" nominal slot openings
3/16" x 1" banding around each section
all 304 stainless steel
Specification (wedge wire):

Width(mm): 1.50 1.80 2.30 3.00 3.30 3.70

Height(mm): 2.20 2.50 2.70 3.60 4.30 4.70 5.60 6.30 7.00

Specification (support rod):

Width(mm): 2.30 3.00 3.30 3.70

Height(mm): 2.70 3.60 4.70 5.60 6.30

Note: other specifications available as per request

Slot size

0.10, 0.15, 0.20, 0.25, 0.30…… 6.00mm also achieved upon request.

Material:

galvanized low carton (LCG), stainless steel (304,316 etc.)

Length

up to 6 meters.

Diameter

from 25mm to 1200mm.

End connection

Plain beveled ends, flanged or threaded couplings