Wedge sieve band-arch screen are ideal for sizing and dewatering applications to remove solids from liquids, or in solid/solid separation for dry feed situations.

Wedge sieve band-arch screen can be manufactured in a variety of widths, arc lengths, apertures or wedge wires to suit the flow rate and material being separated. Although most applications require Static Sieve Bends, "Cross Flow", "With Flow" and "Vibrating" Sieve Bends can also be manufactured.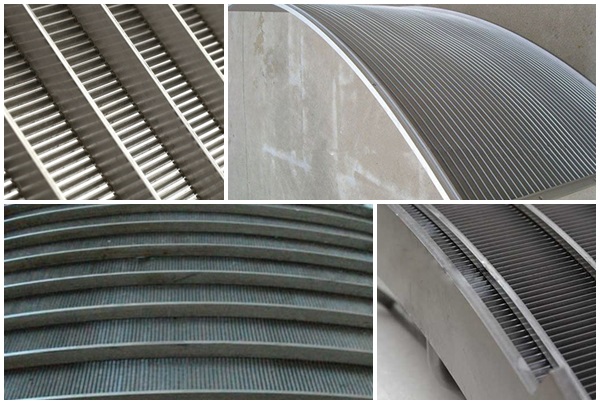 Applications for Wedge Sieve Bend Screen:
1) To remove the solid substance such as suspended matter, floater and precipitate in the waste water treatment of slaughter, leather, paper, sugar, wine-making, food processing, textile, printing and dyeing, petrochemical industry.
2) To recycle useful material such as fiber in paper, alcohol, starch and food industry.
3) Pretreatment of sludge and channel cleanout.
Advantage for Wedge Sieve Bend Screen:
1) Excellent roundness
2) Very good slot width precision
3) High mechanical load capacity
4) No form closure connection that would allow vibration of the profiled bars
5) Automated welding process for high-precision manufacturing
6) Perfectly adjusted screen basket profiles
7) Available for all screens
8) Surface finishing as required
Features for Wedge Sieve Bend Screen:
Low Headroom - only 1.1 metres (44") tall for the 900 mm arc length unit.
Energy Efficient - operates with no moving parts and with no energy input.
Space Efficient - treats up to 122 litres per second per square metre of floor space.
Quiet Operation - no moving parts means no mechanical or electrical vibrations.
Accurate Sizing - can be used for sizing solid particles down to 0.2 mm (0.008").
Low Maintenance - the profile wire screen resists clogging by near-size particles, and the all-stainless steel construction ensures a long, corrosion-free installation
Easy Screen Replacement - a typical screen can be replaced in 10 minutes with no tools.